A state well known for its diverse culture, glorious heritage, multitude religions, and religious traditions, Uttar Pradesh is embedded in the heart of India. Garlanded by the sacred Ganga and the holy Yamuna, the numerous sacred attractions demonstrate this state's rituals of spiritualism. Uttar Pradesh is a place well known for it is tourism opportunities…it's a rainbow land where kaleidoscopic culture has prospered since ages. Blessed with various holy shrines, pilgrimage places, joyous festivals, it plays a significant role in tourism of India. A heritage curve consisting of places Agra, Lucknow, and Varanasi give tourists a chance to discover Uttar Pradesh. The heritage curve is an absolute treasure trove of historical, spiritual and natural wonders, providing a deep look into this enormous state. Now we talk Tourists Places to Visit in Uttar Pradesh.
The heritage curve is divided into three heritage regions each divided into different tourist spots.
01. Agra – Fatehpur Sikri


One of the most beautiful Seven Wonders of the World – the Taj Mahal lies here. Yamuna River flowing through this serene city sets the right mood to go on board for a journey. Get awestruck by the beautiful architecture of the Agra Fort and Fatehpur Sikri; both declared a world heritage monument. An unforgettable sight, exceptional hospitality, gorgeous art and mouthwatering food make the tourist wonderstruck and an unforgettable experience.
02. Barsana


The birthplace of Radha….this was originally known as Brahmasaran. Some prominent places here are Shriji temple, containing the deity of Shriji established some 5000 years ago. Mann Mandir, a small tunnel where Radha used to sit when annoyed with Krishna is a prominent attraction. Mor Kutir, a mesmerizing area where Radha and Krishna danced in the form of peacock and peahen is also another attraction. Krishna Kund, a spot believed to be mainly meant for Radha's bathing and water sports play for Krishna and Radha and Shankari Khor, a location where Krishna and his friends used to mock Radha and her friends also deserve a visit.
03. Bateshwar


A temple town with almost 101 temples out of which 42 temples stand still is Bateshwar. It is also a place for annual cattle fair which is held for the past 400 years. Chambal wildlife sanctuary is a place which is home to a Gangetic dolphin. Etawah, a serene paradise full of greenery has a lion safari…this is the only North Indian Lion safari.
04. Gokul


A place where newborn Krishna was carried to hide from his uncle Kansa. There are many places to visit here. Shri Thakurani Ghat, Nanda Bhavan, where Balram and Krishna grew together, Raman Reti, a place where Krishna played as a child in the sand. Rangbiharji Temple is a place of worship where the exact image of Krishna is made as described by Swami Gyan Das Ji.
05. Nandgaon


This place is known as the home of Krishna's foster father Nand. There are different places to visit here. Nandagram Temple is a temple where two black deities of Krishna and Balarama, holding the flutes can be seen. Nandeeshwara temple, Pavana Sarovara and Charan Pahari are also some places to be seen.
06. Mathura-Vrindavan


The abode of Lord Krishna in Mathura. This place is also mentioned in the classic Mahabharata. It was once the capital of Kushan King Kanishka. The twin cities bring alive the lore of Lord Krishna with traditional stories, cultural traditions and even day to day of life instilled with a deific presence. Some more places to visit are Govind Dev temple, Rangji Temple, Dwarkadhish temple, Banke Bihari Temple and the ISKON temple.
07. Lucknow


The capital of the Uttar Pradesh lies in the center of the heritage curve. The world recognizes Lucknow for its literature, food, artistic activities, and etiquettes. These special features make Lucknow stand apart. It is a home to extraordinary monuments like Imambara, Kaiserbagh Heritage Zone, Rumi Darwaza, Residency, and Dilkusha. Chicken embroidery and Zardozi of Lucknow are globally appreciated.
08. Ayodhya


A place is known for the birth of the divine Lord Rama. A major pilgrimage destination visited from various places in and around India. Places to visit are Ramkot, Kanak Bhavan, Hanuman Garhi, Mani Parbat, Nageshwarnath Temple, Tulsi Smarak Bhavan, Sarayu River, Gurudwaras etc.
09. Bithoor


On the outskirts of Kanpur lies a small temple town on the bank of river Ganga. Bithoor is a peaceful place full of religious and historical significance. It is believed that Lord Brahma chose this place as an abode. It is the birthplace of Lord Rama's son Luv and Khush. Rani Lakshmi Bai played a vital role in the independence battle here. Valmiki Ashram, Brahmavart Ghat, Dhruv Teela and Nana saheb's palace are some other attractions here.
10. Dewa Sharif


Dewa Sharif is a marvelous monument which stands tall. A religious place which treasures the tomb of Sufi Haji Ali Shah. This place is a living example of Hindu-Muslim unity, a promoter of universal brotherhood. 10 days Dewa Mela is conducted every year for the visitors to honor the Saint, in the month of October – November.
11. Dudhwa National Park


The finest Tiger reserve with a lot of diversity and awesome Terai ecosystem. This place lies in the Indo-Nepal border and river Suheli on the southern side. You can see a tiger, a variety of deer, antelopes, elephants, and variety of birds. Calm and a serene place in the foothills of Terai is a must-see place.
12. Katarniaghat Wildlife Sanctuary


Sal and teak, full of greenery with wetlands comprise this pristine forest. A home to different types of endangered and critically endangered species. Tigers, leopards, antelopes, and deers can be seen in this sanctuary. Girwa River which flows through this sanctuary is a shelter to Gangetic Dolphins.
13. Naimisharanya


A sacred place visited by a large number of pilgrims, on the banks of Gomti river is believed to be a holy place where sages performed there reparation. Some more attractions here are Chakratirth, Suraj Kund, Pandav Fort, Vyas Gaddi, Hanuman Garhi and Lalita Devi temple.
14. Nawabganj Bird Sanctuary


A serene place on the highway of Lucknow-Kanpur is a home to the Siberian crane and other migratory birds. These birds rest here during winter months. The other attractions in this sanctuary are boating, deer park and watchtower.
15. Varanasi-Sarnath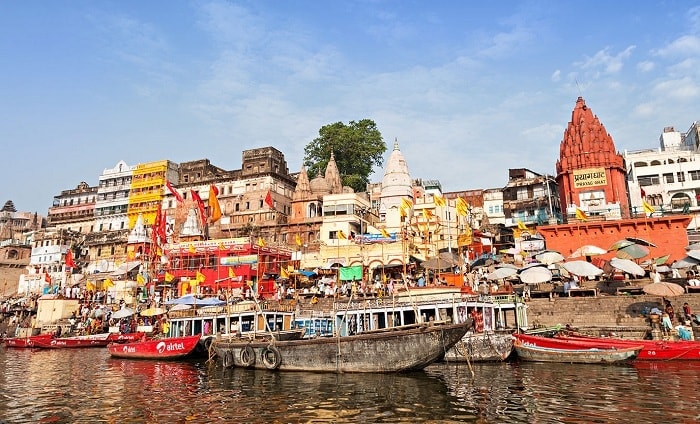 Varanasi is a sanctified place where taking a dip in the sacred Ganga, is believed to cleanse the sins of past rebirths. Pilgrims have this belief that this place lies exactly between the earth and the heaven. The amalgamation of the holy city Kashi, the sacred river Ganga and Lord Shiva makes this place an unforgettable destination.
Sarnath is a well-known and a marked place where Gautama Buddha taught his first Dharma after enlightenment. Chaukhandi Stupa, Dhamek Stupa, Dharmarajika Stupa and Mulgandkuti Vihar are the attractions to visit here.
16. Vindhyachal-Sonbhadra-Chunar


Vindhyachal a sacred place is situated on the banks of the river Ganga and amidst Vindhya hills. It is home to Goddess Vindhyavasini. Sombhadra is a divine land where the icons of the Mahabharata are found. Apart from this, you can also see Shiv Dwar and Renukeshwar temple, a fossil park and cave paintings here. Chunar fort in Chunar, along with the bank of the river Ganga, lines nearly 1000 monolithic stone temple. A famous temple Durga Knoh, a natural rock center and inscriptions on the wall are also added attractions.
17. Kushinagar-Kapilavastu-Shravasti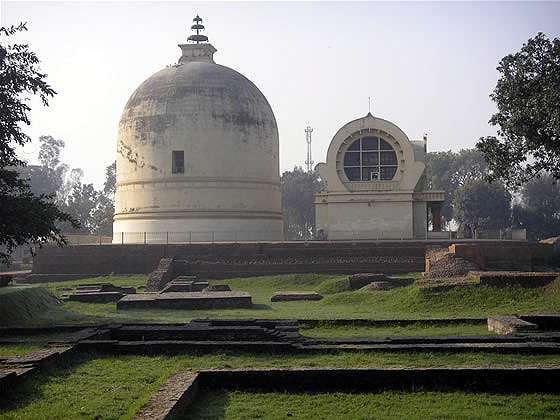 Kushinagar is a well-known Buddhist pilgrimage where Buddha left his corporeal self and attained Mahaparinirvana. Some monuments to see here are Nirvana Site, central stupa, monasteries, Madhukar Khot and Ramabhar stupa. Kapilavastu was the birthplace of Buddha. He left his family and this place at the age of 29. Several villages mainly Piprahwa, Ganvaria, and Salagarh are must-see attractions here. Sravasti is believed to be a sprawling complex having stupas and ruins found by mythological king Shravasti. A bodhi vriksha stands tall in the serene place where excellently preserved ruins can be found. A huge bell is found which conveys the message humanity through its sound.