Varanasi is one of the oldest living cities in the world. Apart from that, it enjoys the distinction of being a holy city, the city of moksha, one of the 12 jyotirlinga sites and home to the famous Benarasi silk sarees. When one thinks of Varanasi, a religious sentiment pervades your thoughts. It is a journey one must undertake at least once in a lifetime to this ancient yet vibrantly alive city, if not for a pilgrimage then at least to know about how Varanasi silk sarees are made before the art vanishes.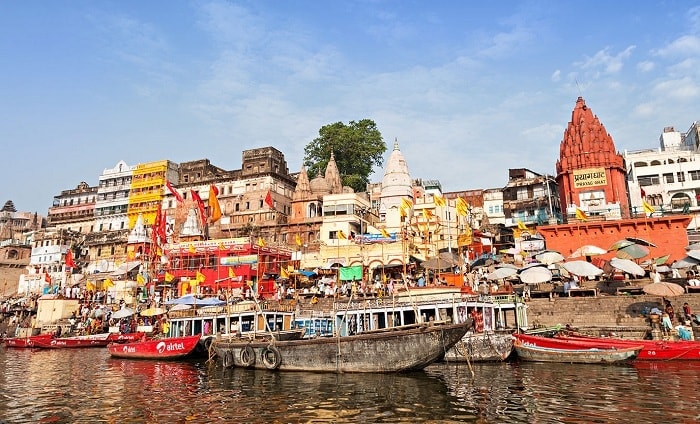 Going it Alone
There is much to be said about setting off on your own when you visit any place and it is no different for Varanasi or Kashi as it is known. Varanasi is known for its Ghats along the Ganges. Arrive in the city, book into the hotel of your choice and set off on foot or make use of auto rickshaws to go from one Ghat to the other. There are 100 Ghats but the most prominent are Manikarnika, Kabir, Assi, Dasaswamedh and Harishchandra Ghat. Similarly, there are dozens of temples but a visit to the Vishwanath Temple, Durga Temple, Bharat Mata and Tulsi Manas temple are a must. When you go it alone you can stop where you want, shop a little enjoy a cup of tea or snacks and take diversions. While here do take a trip to Sarnath, 10 km away from the city, the place where the Buddha delivered his first sermon. The downside to going it alone is it can prove to be expensive. For those who lack time and have limited budget or wish to leave all arrangements to someone else, the best way is to join a Varanasi Tour Packages.
Varanasi Packages Tours
Varanasi being such a holy and important pilgrimage centre, there are packaged tours available from virtually all cities of India. There are regular tour operators who operate Varanasi tours just like any other tour. This means you join the tour either at Varanasi or let them make arrangements for travel to the city, visits to the temples and places of interest, accommodation and food. 4 days 3 nights itinerary is sufficient to take in all of Varanasi and some nearby places of interest. It is better to opt for a customized tour that gives options to visit Allahabad, Gaya and Sarnath at a slightly higher cost. Then there is the vast middle class for whom tours arranged by private operators are all-inclusive and offer accommodation in Dharamshala, meals and transport, at the other end of the spectrum. A drawback of packaged tours is that one is rushed from one place to the other with very little chance to explore on one's own, which must be kept in mind.
Places of interest
Regardless of the tour package, when you visit Varanasi, do take in these places of interest:
Dasaswamedh Ghat: This symbolizes sacrifice of 10 horses performed by Lord Brahma to allow him to return after being banished. It is clean and pristine.
Harishchandra Ghat: This Ghat takes its name after Raja Harish Chandra, renowned for his truthfulness and it is one of the most important cremation sites, the other being Manikarnika. The person cremated here goes straight to heaven is the belief.
Bharat Mata Temple: Unique in that it is dedicated to Mother India, this temple in the Kashi Vidyapeeth premises was built by Babu Shiv Prasad Gupta and houses an idol of Mother India and a carved map of India.
Kashi Vishwanath Temple: Right in the heart of the city, on the banks of the Ganges, this temple is one of the 12 jyotirlinga sites. The Mangala aarti is one you should not miss but it takes place at 2.30 AM!
Durga Temple: Dedicated to Goddess Durga, it was built in the 18th century and it is believed that the Goddess protected the city and still does. The idol here is believed to be a self-appeared one.
Tulsi Manas Temple: Sitting next door to the Durga Temple, this temple is beautiful and it is dedicated to Lord Rama. Tulsidas write the Ramcharitmanas here and hence the name.
Sarnath: A short excursion is worth the effort as one gets to view the site where Buddha delivered his first sermon. Sarnath is known for its stupas and ancient monasteries that give a glimpse into its past. The Ashoka Pillar still appears majestic here.
Other Places to Visit: A visit to the lane where traditional weavers weave the benarasi silk saree is a must as is a visit to the Hindu University and Jantar Mantar.
Choose a packaged tour with care to ensure they take you to the right places and also give sufficient time to explore the city and surroundings and it will be an unforgettable experience.