With the onset of winters in the northern plains you will be greeted with harsh and extreme climatic conditions. For some this is an opportunity to leave the extreme and dry cold weather and move to the hills in order to experience the fresh, pure and unadulterated Himalayan winter. Waking up each day to the sight of the glorious Himalayas to experiencing the magical snowfall, a visit to these snowcapped hills will definitely be an experience of a lifetime. You will be able to indulge in some fun activities like skiing and snow trekking or you may also just relax, sit back and give yourself some much deserved time off.
Here are few places in India where you can experience snowfall just like in fairy tales:
Gulmarg (Jammu Kashmir)


When someone mentions about snowfall in India, the tranquil hill station of Gulmarg comes to mind. With snow laden alpine mountain trees, a refreshing environment and some of the most stunning flowers, wintertime in Gulmarg seems nothing less than a winter wonderland. The refreshing ambiance and rejuvenating air, Gulmarg also offers some of the most brilliant and stark views of the snow-covered land. Wintertime in Gulmarg is also the perfect opportunity to indulge in some fascinating, thrilling and fun-packed snow-related adventure sports like skiing, snow trailing and also experiencing Asia's largest and the world's second-largest cable car project.
Chadar Lake (Ladakh)


This is probably one of your best bets in case you definitely don't want to miss out on experiencing snow in India this winter. This trek will take you on a mesmerizingly memorable journey through steep mountains, snow-covered paths and almost vertical cliffs reaching up to a height of 600 metres. Not only will you experience a magical snowfall but you will also be walking on a frozen lake of the Zanskar River (a tributary of river Indus). The best time to go on this trek is when the entire region is frozen cold i.e. between January to February.
Auli (Uttarakhand)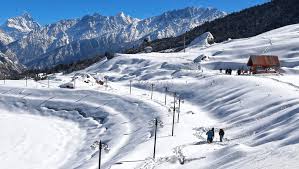 The scenic hill town of Auli is known for being the most popular 'skiing destination of India'. Particularly popular during the winter months when the Bugyals of Auli gets covered in a thick mask of stark white snow. The region also witnesses a large number of pilgrims on their sacred Char Dham Yatra of Uttarakhand who are looking to visit the holy shrine of Badrinath that is located in close vicinity to Auli. These undulating meadows are then converted into a paradise for skiing enthusiasts. Other than skiing you can also indulge in other adventure activity like trekking in the nearby regions. Located at an elevation of 2,800 metres above sea level Auli also has an artificial lake which is one of the must-visit destinations in Auli.
Manali (Himachal Pradesh)


People generally visit Manali in winter as one of the best options for a summer getaway since the temperature here remains pleasant and comfortable. However, if you want to experience the Himalayan snowfall then visiting Manali during the winter months of December to January or even early February months is advised. Being a teeming holiday destination for family and friends there are a number of snow activities people can indulge themselves in like sledding, skiing, zorbing, snow tubing, snow scooter rides and so much more. Experiencing the snow in Manali should definitely be on your bucket list.
Roopkund (Uttarakhand)


Situated in the stunning and picturesque district of Chamoli at an elevation of 5,029 metres above sea level and known for its dense forests, the undulating surrounding meadows and panoramic views of the majestic snow clad mountain peaks like Trishul and Nanda Devi, that overlooks this clear high altitude glacial lake, Roopkund is one of the most loved winter treks in Uttarakhand. Also known as the mystery or the human skeleton lake the lake is surrounded by grey loose rocks and has gathered international attention for its skeletal findings that are said to be the remains of the people killed in an unexpected hailstorm.
Tawang (Arunachal Pradesh)


Sitting at an elevation of 3,048 metres above sea level in the tranquil and peaceful state of Arunachal Pradesh, Tawang is undeniably one of the most serene and rejuvenating winter destination in India. With the incoming of winter the entire town of Tawang gets covered in a magical blanket of fresh white snow turning this historically rich destination into a complete winter wonderland. Spending your winter vacation Tawang is a great way of utilizing your holidays since you will be greeted with clear blue skies, stark white snow and pleasant people who will welcome you with a smile.
Tsomgo Lake (Sikkim)


Literally translating into 'source of a lake' in Bhutia language, Tsomgo Lake is situated on the eastern end of the stunning northeastern state of Sikkim. Sitting at an elevation of 3,753 metres above sea level this high altitude glacial lake is one of the prime centres of attraction since this is one of the most highly revered holy lakes here by the highly spiritual Buddhist monks and the local Sikkimese population. It is a sight to behold during the winter months when the entire region gets blanketed in snow. The oval-shaped lake covers a surface area of almost 60 acres and is the venue for the grand celebration of Guru Purnima.
Sonamarg (Jammu Kashmir)


Also referred to as the 'meadow of gold', this pristine hill station is located at a scenic and mesmerizing distance of 80 kms from Srinagar. Sonamarg is responsible for giving rise to the famous and glorious 'the three sisters' or Kashmir. Winter time in Sonamarg results in the complete blanketing of the entire valley making it look like Lapland in Finland. The responsible Himalayan glaciers lay close to this valley namely Kolahoi glacier and Machoi glacier which consists of massive peaks. Surrounded by the scenic, snowcapped mountains and with the clear blue water snaking through the valley Sonamarg is truly every traveler's paradise.
Shimla (Himachal Pradesh)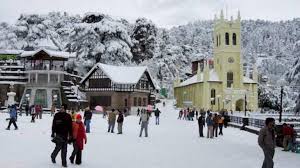 By the end of the year with the New Year approaching, the hill town of Himachal turns into a snowy magical land and is one of the best places to experience the chills of the Himalayas. This place normally remains flocked with a throng of tourists during the summer months who visit here to beat the summer heat. However, a different picture is painted during the winter months when everything is turned into a snowy dreamland. This place looks truly like a mini Switzerland with its gothic churches and alpine trees.
Dalhousie (Himachal Pradesh)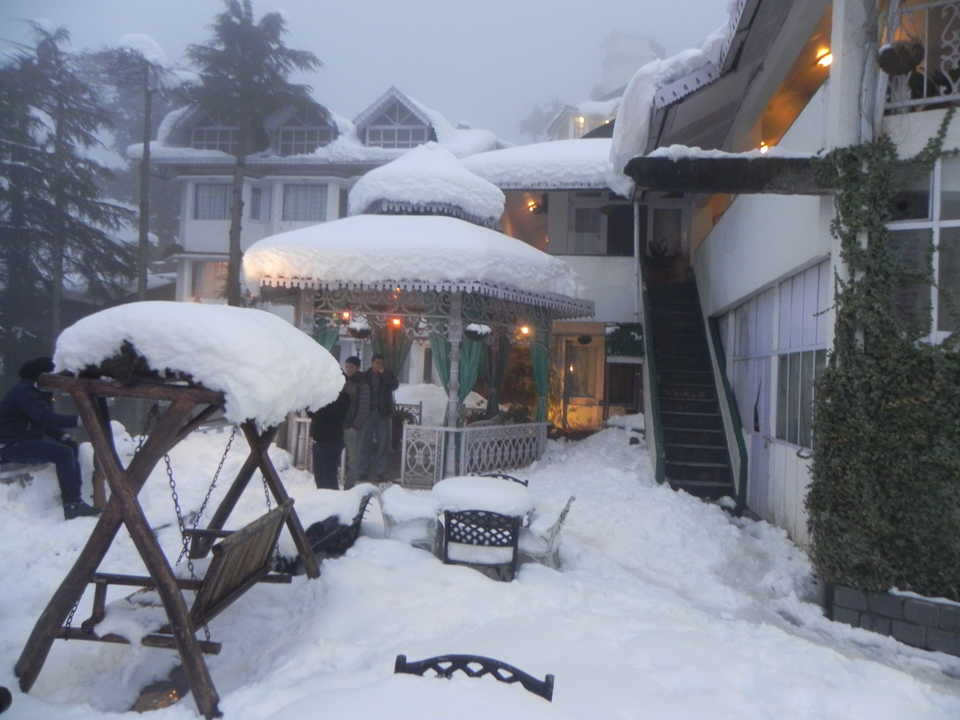 Named after the Earl of Dalhousie, this place is located in the vibrant district of Chamba and offers some of the most magnificently stunning sights of the overlooking, snow-clad peaks. Its location spreads across 5 different hills at an elevation of 1,970 metres above sea level, Dalhousie is not only an ideal summer retreat but also allows you to savour some of the most iconic sights of the surrounding hills. People visit this place as a part of their pilgrimage journeys, Hindu culture, art, handicrafts and so much more. Road access to Dalhousie gets completely encapsulated in the fresh white snow and gives some of the most ethereal views of its surroundings.
Narkanda (Himachal Pradesh)


Placed at an elevation of 2,708 metres above sea level and on the Hindustan Tibet road, the snowy wonderland of Narkanda is located at a distance of 65 kms from Shimla and is overlooked by the snowcapped peaks of the Shivalik Ranges. This hill town is visited by tourists from various parts of India to experience the wonderful Himalayan winter days when the temperatures are known to drop as low as -10 degree Celsius. People experience soulful snowfall during these months and the entire region gets covered in a thick sheet of snow.
Munsiyari (Uttarakhand)


The homely and quaint hamlet of Munsiyari is located in the Pithoragarh district of Uttarakhand which is nestled in on the lap of the snowcapped Himalayas. Perched on an elevation of 2,298 metres above sea level and lovingly known as 'little Kashmir', Munsiyari is every travel lover's paradise. accompanied by the magnificent views of the mighty hills of Nanda Devi, Nandakot, Rajarambha and the Himalayas of Nepal, the tranquil ambiance of Munsiyari attracts a number of visitors from India as well as abroad who are looking to rejuvenate themselves in the clean, snowy winter air.
Nainital (Uttarakhand)


The lake hill town of Nainital is considered to be one of the most visited destinations on the undulating hills of Uttarakhand. These graceful hills get completely covered in snow during the peak winter months giving its visitors and other travelers a fun winter surprise. Holiday goers and people looking to celebrate the New Year among the stark white snow, Nainital is the best option for it. With a magnificently glimmering blue lake, Nainital is an oasis of opportunities for people looking to explore this snowy winter destination. There is no dearth of places to visit in and around Nainital including the numerous lakes.
Patnitop (Jammu Kashmir)


Located in the district of Udhampu above sea level an close to the river Chenab, this place is blessed with a wholesome snowfall every winter months. During this time the entire region gets completely covered in white snow turning everything into a white dreamland. Being a focal point for snowfalls the region gets completely blanketed during the winter months that also cause some halt and delay to the influx of tourists visiting this magnificent place. The pleasing views that Patnitop has to offer seems like you are in a movie that makes it an ideal destination for honeymoon goers and peace seekers.
Rohtang Pass (Himachal Pradesh)


Situated on an elevation of 3,978 metres above sea level, this pass works as a naturally occurring divide between the Kullu Valley and the arid landscape of Lahaul Spiti valley. This higher region of Manali normally remains covered in snow all year long and during the winter more fresh snow is added to this white wonder. People throng this place with an aim of witnessing snowfalls and indulging in some fin snow activities like snowball fights and making snow-man. The pass is open for visitation from May to November when you can easily encounter a lot of snow and sometimes even experience a peaceful snowfall.
Khajjiar (Himachal Pradesh)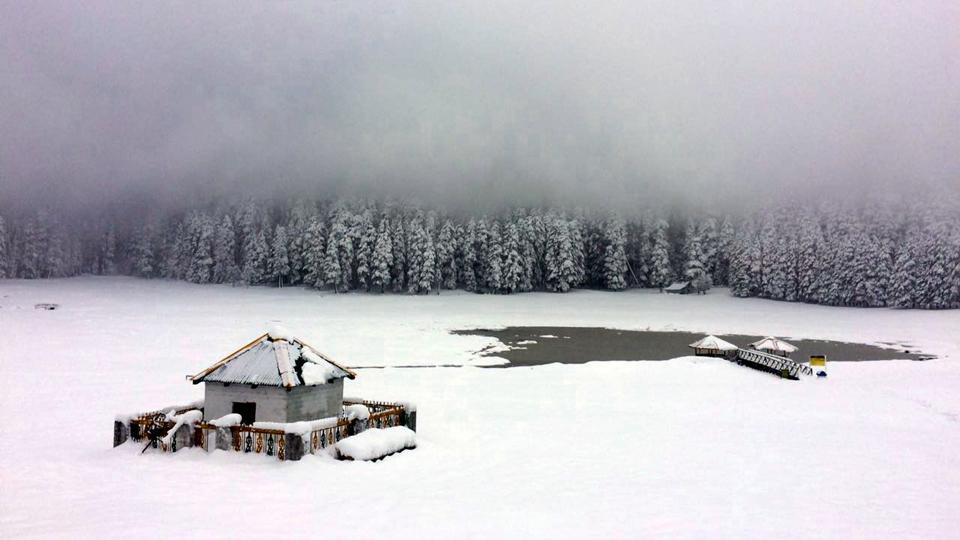 Situated at a mere distance of 24 kms from the iconic and peaceful destination of Dalhousie, Khajjiar is a popular tourist destination for people not only looking to beat the summer heat but also for people looking to have an experience of the Himalayan winter. Situated at an elevation of 2,000 metres above sea level and surrounded by thick and thriving green cover that converts entirely into a land of snow, Khajjiar should definitely be visited during the winter months in case you want to have a feel of the fresh and pure Himalayan air.
Spiti Valley (Himachal Pradesh)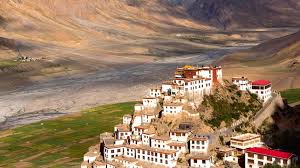 The cold desert mountain of Spiti is located in the northeastern end of the hill state of Himachal Pradesh and is known as the 'middle land' due to its location in between India and Tibet. During the winter months, this valley seems surreal since the entire valley gets covered in some snow which is not that heavy but is successful in making it look like a complete ethereal beauty. With majestic and ancient monasteries the entire snow-clad region offers a feeling of deep spirituality combined with awe-inspiring beauty. There are a number of sightseeing destinations here where you can just sit back, relax and take in the beauty this place has to offer. Snow in Spiti has to probably be one of the most mesmerizing sights in India. If you are looking to spend your vacations among the undulating, snow-covered hills with a hint of peace and spirituality then a visit to Spiti should definitely be on your bucket list since the snowfall in Spiti is unlike anywhere else in the world.