India, the home of Ayurveda, is now also fast turning into a leading Ayurveda destination as people all over the world realize the holistic health benefits of this natural way of life.
Ayurveda originated in India more than 5000 years ago and is part of the Rigveda according to some pundits while others believe it to be a part of Atharva Veda. Legend states that Brahma disclosed the secrets of Ayurveda to Dhanvantari. Charaka and Sushruta are credited with developing Ayurveda further and have written treatises that are considered authoritative. Moghul and British invasions pushed Ayurveda into the background and after Independence, there has been a gradual resurgence. Today people are considerably more aware of the benefits of a holistic way of healing and way of life that is essentially what Ayurveda is about. Medical tourism has kicked off with a number of countries offering regional herbal treatments and spa facilities. India too has its specific centers of Ayurveda and resort spas have come up at these places, much sought after as a place where you can rejuvenate and restore health the holistic way.
Of all the Ayurvedic treatments, Rasayana Chikitsa or rejuvenation treatment is one of the most popular since it is a holistic way to achieve health. Such treatment improves vitality and mental clarity. Treatment includes massage with herbal medicated oils, steam baths, longevity treatment, and elimination of toxins, activation of Prana Force and other treatments forming part of Panchkarma. If you join, you will start with disciplined behavior, undergo self-purification, practice yogasana and pranayama and learn to control your senses in an overall fitness program that revitalizes you totally. The Panchkarma process encompasses all these to bring functions of your mind, organs, lungs, brain and heart to top condition, effectively turning you into a new being. This is by no means the only program available at ayurvedic resorts. Ayurvedic experts treat a variety of illnesses such as osteoarthritis, facial paralysis, Spondylosis, arthritis and musculoskeletal problems, even handling such hard to cure diseases like leukemia and cancer.
Kerala has become the leading center for ayurvedic treatments since the State is blessed with an abundance of herbs and has an enduring tradition going back thousands of years. It is warm and sunny in Kerala with July to September being the best time to go in for a holistic ayurvedic program. If you would rather prefer to be somewhere cool, Uttarakhand is the place to be with its mountains and a cool weather.
Ananda, Uttarakhand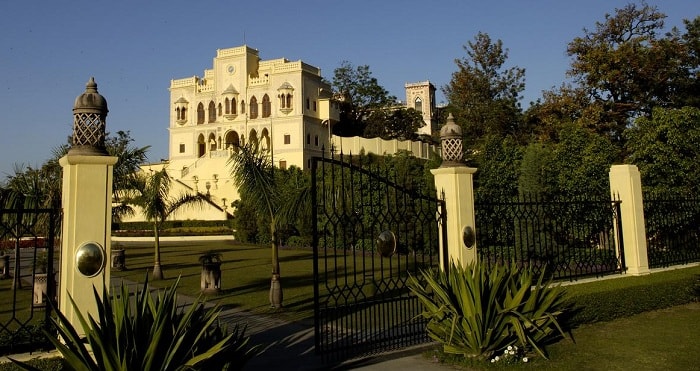 This is a globally famous ayurvedic resort and spa offering a variety of ayurvedic and aromatherapy treatments. It is just 260 kilometers from Delhi, perfectly located in the Palace Estate in Narendra Nagar in the foothills of the Garhwal Mountains with a lovely view of the Ganges and mountains. The resort has yoga, Indian Ayurveda, Thai and European style treatment along with hydrotherapy and massage. While Kerala ayurvedic treatments rely more on herbal oils for a variety of treatment, Ananda follows the Northern style with less use of oil and more of massage and hydrotherapy aided by herbs and yoga. Even food is holistic Ayurveda cuisine based on the precept that food is medicine.
Devaaya, Goa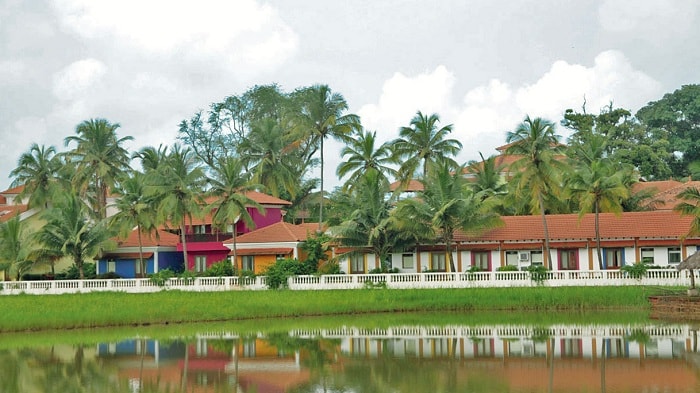 Goa conjures up images of beaches, fun and frolic. Surprisingly, it is also fast turning into a center for ayurvedic treatments. Devaaya is one such resort spa located on Divar Island off the coast of Goa. It offers a range of naturopathy, Panchkarma, yoga, meditation, music and diet planning for international tourists.
Mandrem beach in Goa also has quite a few ayurvedic holistic spas and resorts where you can have a lovely time enjoying the beauties of this scenic area in addition to rejuvenating yourself.
Kairali, Palakkad, Kerala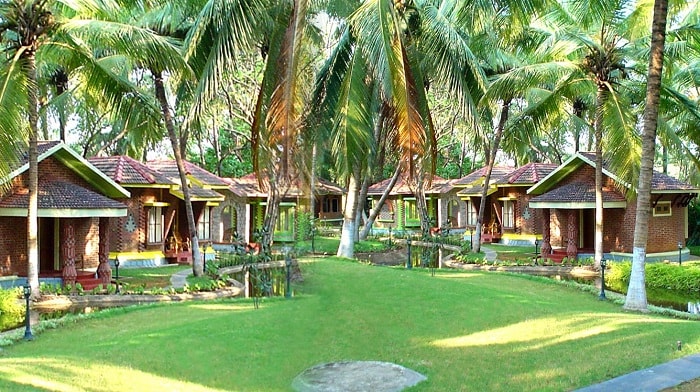 Kairali is fast gaining global acclaim for its lovely ayurvedic village that offers a comprehensive range of ayurvedic treatments.
The Leela, Udaipur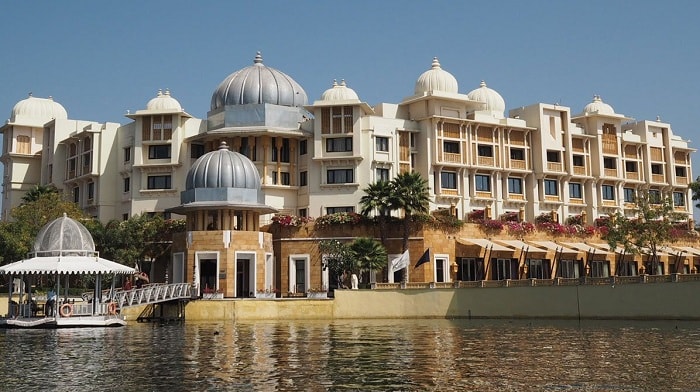 If nothing but 5 star facilities will do for you then head for The Leela, located in the picturesque lake city, Udaipur in Rajasthan. The resort offers hot stone massages, yoga, meditation and facials the Ayurvedic way.
These are not the only Ayurvedic destinations. Most of the traditional ayurvedic treatment centers operate without much fanfare of publicity and even local people hardly know of the existence of these centers or treatments available. However, if you search you will find.
For instance, N Ayurveda International is a full-fledged ayurvedic therapy center run by Dr Ram in Rishikesh. The resort is located on the banks of the Ganges and provides Vedic remedies including Panchkarma, ayurvedic diet, yoga, pranayama and kaya Kalp in a personalized way.
Rayirath Heritage hotel in Thrissur is another specialist ayurvedic resort offering five star facilities and the full range of Kerala ayurvedic treatments including yoga, meditation, Panchkarma, Body slimming, skin and beauty care, de-stress and anti-cellulitis program along with Kerala Ayurveda food.
If you plan to visit Kerala you can consider Krishnendu Ayurveda Resort that offers the whole range of Ayurveda treatments including detox, rejuvenation, weight loss, slimming, yoga, meditation, anti-ageing, massage, Shirodhara, Janu Vasti, Nasyam, Panchkarma and others.
One reason for the rise of Kerala as the most popular ayurvedic destination in India is that the tradition of Ashtanga Hridayam or practical application of this ancient science developed by Vagbhata has been kept alive by the Vaidyars and you will find the widest variety of treatments including Panchkarma, oil treatments and Kashaya or treatment with herbal infusions along with massage. Miraculous cures have been attributed to these learned and proficient Vaidyars such as curing paralysis and cancer. The Government of Kerala Tourism Department grades ayurvedic resorts as Green Leaf or Olive Leaf depending on whether they offer 5 star or 3 star facilities. Kerala Tourism gives you access to Age Halt ayurvedic packages at a number of its resorts.
There are public as well as private run Ayurveda clinics and hospitals where you can get a variety of ayurvedic treatments at affordable costs. These centers are located in major and mid-tier cities but do not publicize their services. Such centers may be attached to an ayurvedic college offering short term and long term courses that teach you the ayurvedic way of life and basic principles to advanced techniques. Most foreigners and well to do Indians head to well-known and publicized resorts and spas. If you are looking for affordable ayurvedic treatments, look for such government and private charitable trust run ayurvedic centers. You get the same treatment but at a far lower cost. The Kerala Institute of Medical Sciences in Thiruvananthapuram is a government-run ayurvedic center. In Punjab you have the Guru Nanak Ayurvedic Medical College and Hospital at Muktsar.
Mention of Ayurveda in Modern India would be incomplete without mentioning Baba Ramdev and his Patanjali Yogpeeth in Haridwar. The Center has a full-fledged yoga center, research, and ayurvedic hospital and ayurvedic college offering the entire gamut of holistic treatment and training facilities.
You will also find Ashrams in India offering varying levels of ayurvedic treatments. Stay here is inexpensive as is the treatment since profit is not the main motive. One such well known ashram is the Sivananda Yoga Vedanta Dhanwantari Ashram at Neyyar Dam near Trivandrum and another is Nisargopchar Gramsudhar Trust in Uruli Kanchan, Pune, offering a range of ayurvedic treatments. If you want to live life the way Sanyasis do, follow their holistic lifestyle and receive ayurvedic treatments the traditional way with no fancy trappings, ashrams are the way to go.
To sum it up, if you want fancy ayurvedic treatments in modern settings, ayurvedic resorts and spas have sprung up all over the country. If you want low cost ayurvedic treatments, it takes time and effort to find Government and charitable trust run institutions where you can get the same treatments. If you wish to live a simple life while undergoing ayurvedic treatments, head for the well-known and not-so-well-known ashrams.