India, popular for its religion, tradition, history, festival and of course it's ever changing seasons. Now that we are bidding adieu to the month of March and with the onset of the spring season this is the perfect time to go out in the sun, explore some places and gather some memories before full-fledged summer months sets in. April is the time when you will be able to not only get soaked in the sun but you will also be treated with the colorful springing of the flowers and lush greenery which will be in full bloom during this peak spring month.
April is probably the most appropriate time for you to explore the colours and vibrancy of India since you will be able to explore more areas. Here are a few places where you can go in April:
01. Dalhousie, Himachal Pradesh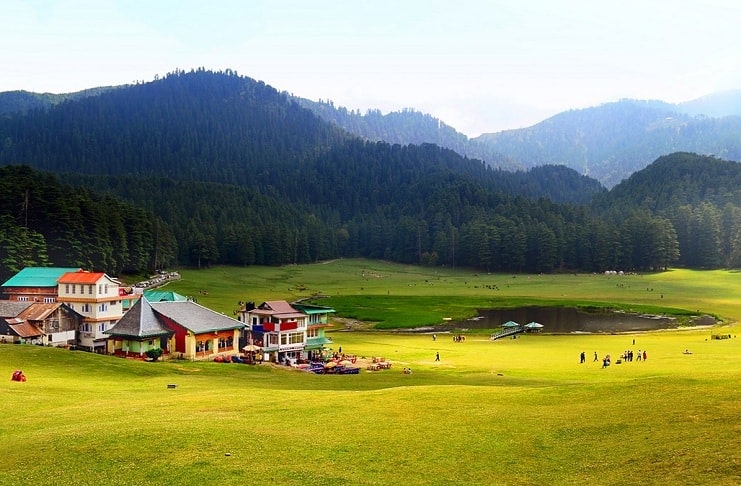 This summer retreat that was established by the British as a way to get away from the scorching heat of the Indian plains, Dalhousie is the best way of experiencing the rejuvenating weather. There are several tourist sightseeing options in Dalhousie and you will definitely not get bored here. Surrounded by an incredible range of natural beauty and set against the backdrop of the snow clad mountain peaks Dalhousie still reflects its past of British influence.
Weather in April: The month of April marks the onset of summer on the hills. During this time Dalhousie experiences pleasant weather condition with cool breeze with maximum temperature hitting 26 degree Celsius.
Places to Visit: Kalatop, Panch Pulla, Chamera Lake, Dainkund Peak, Sach Pass, St. Patrick's church etc.
02. Cherrapunji, Meghalaya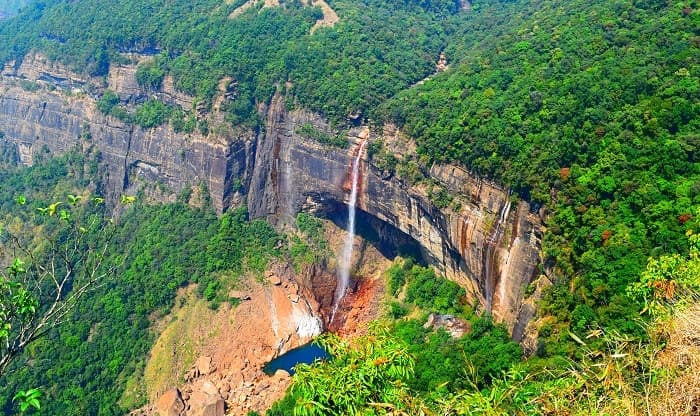 A mystifying sense of elation and peace is experienced when someone mentions this famous wettest Place on Earth. Unparalleled and otherworldly scenic beauty can be experienced at a distance of just 60 kms from Shillong. The entire region is surrounded by the old and majestic Khasi hills and Zig sagging valleys as far as the eyes can go. The entire region is dotted with numerous cascading waterfalls and holds some of the most vibrant natural secrets. April is the best month to go on a rainfall chasing expedition across Cherrapunji where you will be treated with a blissful environment.
Weather in April: Cherrapunji receives the most rainfall in the month of April where the temperature stays at a pleasant rate of 15 to 22 degree Celsius.
Places to Visit: The living Root Bridge, Nohkalikai Falls, Mawsmai Cave, Seven Sisters Falls, Mawkdok Dympep Valley, Eco Park and ka Khoh Ramhah.
03. Coorg, Karnataka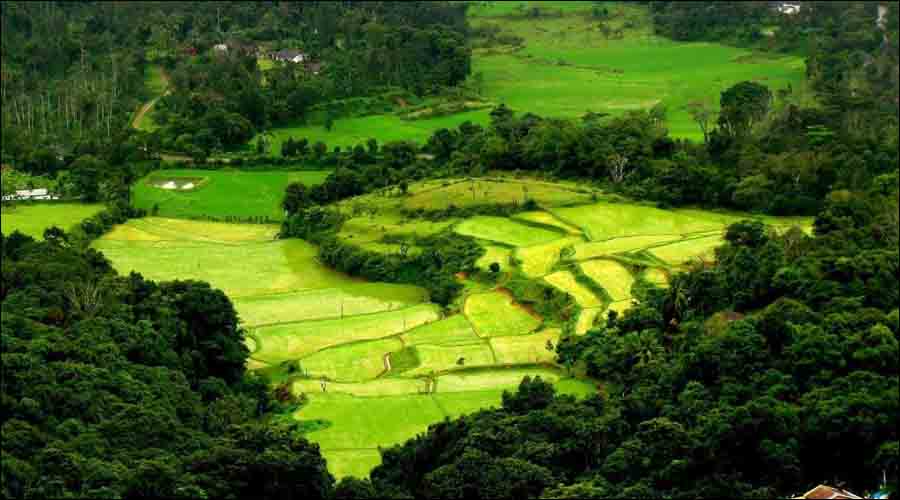 During your visit to Coorg you will not only be mesmerized with the overwhelming natural beauty but you will also be surprised by the amount of pure coffee plantations here. Surrounded by a thick covering of verdant green forest hills and an eminent vibe of deep peace this affluent Karnataka hill station is an extremely popular destination among nature lovers. With every step you take in Coorg you will be experiencing intoxicating beauty that surrounds this quaint hill station which was once a prominent British province. There are deep gorges and valleys making their way through the town and also ranks among one of the most sought after places to visit in south India in April.
Weather in April: This is considered to be the peak tourist month in Coorg and during this time the temperature ranges between 15 to 20 degree Celsius.
Places to Visit: Namdroling Monastery, golden temple, Iruppu falls, Abbey falls, Nagarhole national park, Nisargadhama forest.
04. Dharamshala, Himachal Pradesh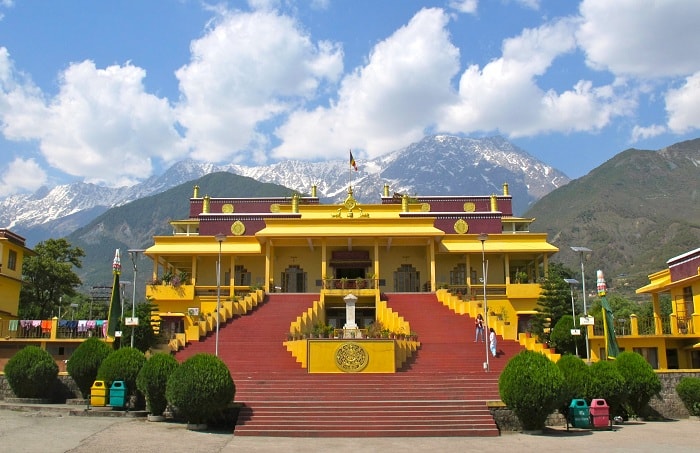 An ideal destination for people looking to get a taste of adventure on the hills with onset of the colorful spring month in May, Dharamshala is one of the best options for a budget travel. This tiny, verdant green and peaceful hamlet is not only a much loved destination among Indians but also for international peace lovers as well. Adding to the beauty of this vibrant hill town are the magnificent views of the surrounding snow clad Dhauladhar range. The spirituality here is ever present and cannot be ignored since it is also the seat of his holiness Dalai Lama. Peppered with colorful prayer flags and enchanting views every curve of the way Dharamshala is the place to be.
Weather in April: The daytime experiences some heat and warm temperature conditions. Whereas, nighttime gets colder and chillier as compared to the day time, the temperature goes up till 24 degree Celsius and is May also unexpectedly rain.
Places To Visit: HPCA stadium, Tibetan museum, Kalachakra temple, Kangra valley and War memorial.
05. Gangtok, Sikkim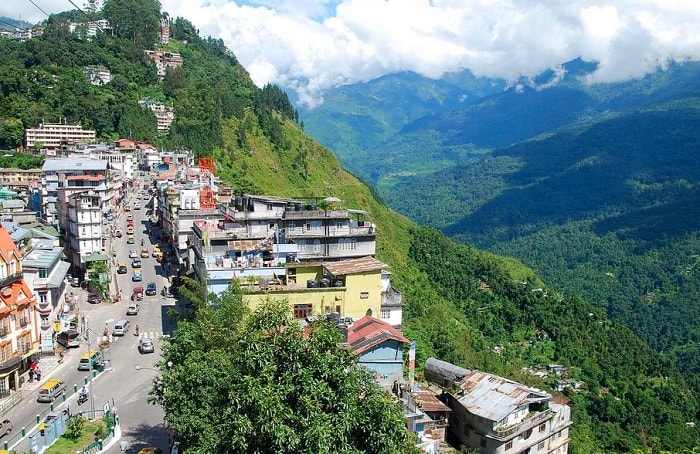 Experience this slice of heaven on the lower lap of the Himalayas, the pristine hill destination is known for its impeccable glimmering collection of waterfalls, winding roads among the thick green forest cover and a level of peace that can only be experienced here in Gangtok. You will be able to take a deeper look into the unique culture, traditions and beliefs which binds this community together. With wide open clear blue skies and with the cool breeze flowing through the town this place will be refreshing change from your regular life.
Weather in April: The weather in April offers its tourists an opportunity to experience the refreshing weather here in Gangtok. The average temperature here will be between 13 to 22 degree Celsius.
Places to Visit: Nathu La Pass, Tsomgo Lake, Ranka Monastery, Hanuman Tok, Himalayan zoological park and do Drul Chorten Stupa.
06. Manali, Himachal Pradesh


Known for its scenic beauty and unmatched natural beauty, Manali is quickly becoming a hub for the quickly evolving hippie culture. Surrounded by impressive snow clad mountain peaks and covered in deep green forest cover, a visit to Manali is a must if you want to visit a place where tourists and travellers are welcomed by the locals with a big smile. Be it summer, monsoon or winter, Manali remains flocked by people looking to get a hint of adventure in their life since this place is also known for its trekking, hiking and camping activities. What a great place to kick back, relax and enjoy the looming mountain.
Weather in April: Weather in Manali in April remains blissfully pleasing where the temperature ranges between 10 to 25 degree Celsius.
Places to Visit: Hidimba Devi temple, Jogini falls, Solang valley, Rohtang pass, Bhrigu Lake, Pandoh Dam and great Himalayan national park.
07. Ooty, Tamil Nadu


Popularly and rightfully deemed as 'queen of the hills', Ooty is definitely one of the most famous hill stations of South India. Located right amidst the mesmerizing and stunning blue mountain ranges of Nilgiri this incredible hamlet has always been attracting tourists from far and wide. The colonial past is still ever present here and this mingles perfectly with the natural lush greenery. The weather here remains refreshingly rejuvenating throughout the year and is a tourist hub. Replete with rich greenery, a thriving ecosystem and innumerable tourist sightseeing attractions Ooty should definitely be on your bucket list.
Weather in April: Although the weather condition in Ooty remains unpredictable throughout the year, but the month of April is considered to be the most preferable among tourists. During this time the average temperature remains between 12 to 30 degree Celsius.
Places to Visit: Government Botanical Garden, Nilgiris Mountain Railway, Pykara Lake, Avalanche Lake, Doddabetta Peak, Rose Garden and St. Stephen's church.
08. Pachmarhi, Madhya Pradesh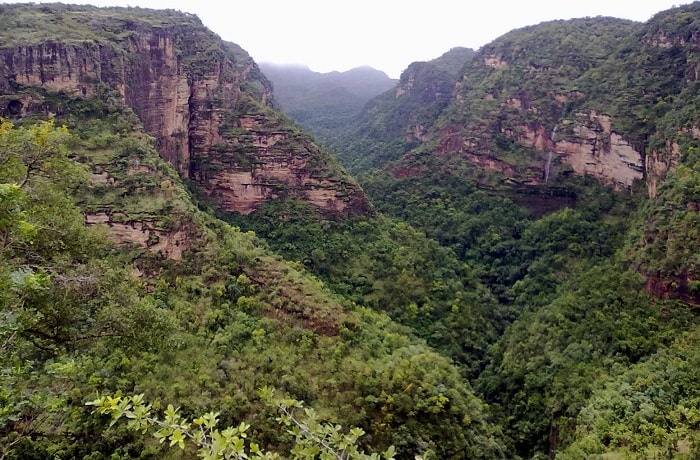 With rigged green mountain trails that look like they have just come out of a mythical movie, this place is known for being the home of the heaven itself. The peaks here are covered in lush greenery and from here you will be able to savour some of the most amazingly panoramic views of the Satpura ranges. This is one of the most scenic and picturesque hilly towns in Madhya Pradesh and it also represent a bowl shaped structure which is surrounded by pure untouched natural beauty. The hills are covered entirely with green cover and you will be able to have a rejuvenating experience.
Weather in April: The weather in this hill town remain unpredictable and it remains cool throughout the year. In April you will be experiencing temperatures between 22 to 35 degree Celsius. this is also a good time to go for a sightseeing journey.
Places to Visit: Bee falls, Dhupgarh, Satpura National Park, Rajat Prapat, Jata Shankar Caves, Mahadeo Temple, Rajendra Giri Sun Set Point and so much more.
09. Lonavala, Maharashtra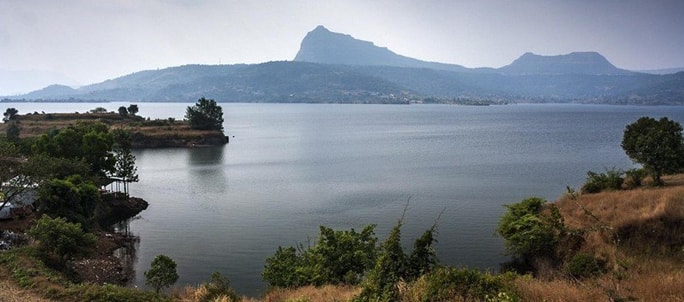 Located in close proximity to the city of dreams, Mumbai, Lonavala is one of the most popular weekend destinations and hill getaway option in Maharashtra. Surrounded on all the sides with lush green hills and verdant valleys Lonavala has always been a tourist magnet for every traveller. Signs of ancient ages can still be witnessed here which will add o to your enchanting experience. A visit here will offer you some of the most appealing views teamed up with well-preserved natural beauty.
Weather in April: This hill town is an ideal travel destination all year round and in the month of April the temperature ranges between 16 to 33 degree Celsius.
Places to Visit: Khandala or Lohagad Fort, lion's point, Pavana Lake, Karla Caves, Rajmachi Fort, tiger's leap and Korigad Fort.