Rai Parveen Mahal is one of the most attractive tourist locations located in Orchha of Madhya Pradesh. It was built by Maharaja Indrajit Singh in 1618 for his favourite courtesan Rai Parveen. This palace in built in exquisite Mughal architecture and the intricate work of the palace is worth appreciating. The palace has a main hall, terraces and chambers which are filled with air and light which offers a soothing and calming experience.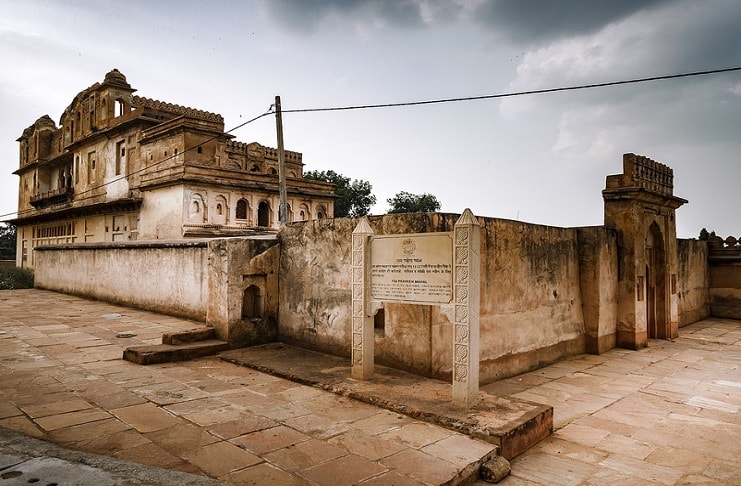 According to historical sources Rai Parveen was a very beautiful and multi-talented woman who was a singer, dancer and a great poetess. Some of her belongings are still kept in the palace. She was the favourite mistress of Raja Indramani (1672 – 75) during the time of Aurangzeb. The palace is octagonal in shape and has a Mughal garden outside which add more beauty to the palace.
Rai Parveen was a famous for her enchanting beauty and her poetic skills. She was also a very good musician and dancer. She was the favourite mistress of Indrajit Singh. Her beauty and charm was so popular that she was well known far and wide and her popularity finally reached the court of Akbar.
Akbar was smitten by her beauty and ordered that she be sent to his court. Indrajit Singh was too weak to defy the order of the powerful Mughal emperor and finally had to send her to his durbar. However when she reached the Durbar she recited a couplet which highly impressed Akbar who then rewarded her and allowed her to return to Orchha. This palace is three storied and is made up of brick and lies to the north of Sheesh Mahal. In the second story of this palace there are different sculptures depicting various Indian dance poses. Since Rai Parveen was a famous dancer this palace has many dance and music halls meant for dance shows.
There are also lawns, underground apartments, and small temples inside the palace. On the second story the walls of the central hall is filled with many paintings that depict the many moods of Rai Parveen. The garden in the palace is known as the Anand Mahal bag.
Best Time to Visit: January to April and September to December
Visiting Timings:  9 am to 5 pm
Admission Fees: INR 5 for Indians and INR 30 for foreigners.
Orchha is a very beautiful town in Madhya Pradesh which is famous for its attractive and exquisite archaeological monuments. Located on the banks of river Betwa, this town was founded by Maharaja Rudra Pratap Singh in the year 1501.
The name of the town means a hidden place and it is richly covered with natural beauty and serene vegetation. The marvelous monuments scattered all over the town gives it its unique charm and importance.
It has the ancient temples built in the 16th and 17th century. Some of the important tourist attractions in this town are the Jahangir Mahal, Raj Mahal, Ram Raja Temple, Phool Bagh and Lakshmi Narayan temple. It is also known for its world-class Mural Paintings which are found on the walls of the temple and palaces.