Norway is beautiful. With a stunningly grand scale and extremely scenic landscapes with snow-capped mountains, crystal clear waters, well-maintained roads with no traffic & great outdoors for almost any kind of sports and outdoor activities. You have the freedom to pitch a tent almost anywhere, and pretty much everywhere you go you have it all to yourself. There is just one thing to take note of, it is expensive, I mean not just a little bit but REALLY! Anyway Norway's beauty is sure worth every penny, and it's one of my favorite places, but do make sure that you are prepared so your pocket doesn't hurt too much. The amazing landscapes and fjords such as Sognefjord and Geiranger are absolutely spectacular, so if you are thinking of heading up there, here's a bit of an introduction to get you started.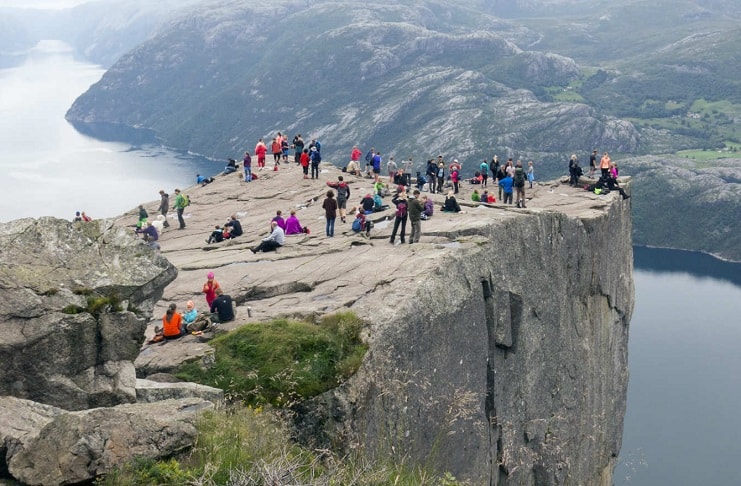 Where to Start – Hop on the Oslo Ferry
A great way to embark on your Norwegian journey would be to start out in the capital of Oslo. If you are travelling Scandinavia one way of getting to Oslo would be via the Oslo ferry from Copenhagen, Denmark. It's not just a ferry ride but more like a mini cruise, as it's an overnight journey, and there's lots to enjoy on board. It runs daily departing from Copenhagen late afternoon and arrives into Oslo harbour roughly around 9-10am the following day. The most scenic part of the trip is sailing through the Oslo fjord which is beautiful. So it's well worth getting up early and investing in the enormous buffet breakfast, which you can enjoy while sailing through the tranquil setting of the Oslo fjord.
So now if using Oslo as a starting how to get to Sognefjord? A great way to drive is to go via Aurdal – Lom – Laerdal – Sogndalsfjora to the famous Sognefjord. You may detour via Lillehammer (making the journey a lot longer, but also well worth it) and have a look around the Olympic areas.
The famous Sognefjord
The Sognefjord is absolutely beautiful and I can highly recommend hopping on one of tour boats, and do a couple of hours of sailing, or doing a longer trip on the bigger cruise ships. The fjord is surely amazing to look at from above, but it gives a different perspective to look up! For trips and cruises you can check out Fjord Cruises and Norway's famous ferry route Hurtigruten.
Geirangerfjord
Geiranger is another famous destination and even though it's a popular tourist spot, it doesn't seem crazy busy at all. In peak season (July – Aug) hotel rooms and huts can be in high demand, so its always a good idea to confirm your bookings ahead of time. If you are more into camping then yes Norway is the perfect place for that! Just pick a spot and you are free to set up camp almost anywhere. If you'd like something in between then renting a basic hut is a good option, and there's quite a few to choose from all with spectacular views. Most campsites around Geiranger has huts as well, here's the million dollar view from one of them!!
Traditional Stave Churches
Of course when traveling Norway one can't forget about the beautiful stave Churces which dates back to between AD 1100 – 1200. Borgund stave church in Laerdal and Lom stave church in Lom is well worth a visit.
When Is It Best To Go?
Guess it depends if you are after skiing or hiking…The summer is short in Norway and even in peak the weather can change rapidly, so you always need to carry warm clothes with you. Nothing is ever guaranteed with Scandinavian summers, but when they do come it truly is amazing. You'll have roughly 20 hours of sunlight during the Norwegian summer months, so there's not much need of a torch! Summer is from June – August and is definitely the best season for camping and hiking. The autumn months of Sept-Oct are beautiful too, but it gets a fair bit cooler though. So the first few months of spring (March-May) are still very cold with snow on the mountains, so good for skiing!. It starts to warm up a little in late April making May the most comfortable month to travel in spring. Winter is cold…naturally! Of course if you are going skiing it's the perfect season. Snow from Nov – April. Best months late Jan – March, just try to stay clear of week 7 (February) as it's common to have school holidays in Scandinavia around that time, so everything costs double and you definitely won't have it to yourself.
Anyway Norway is great place – so get out there and enjoy it!