Kerala is one of the best places for tourists who love and enjoy the beauty of nature. Thrissur is full of natural beauty, historical heritage sites, temples, waterfalls and much more.
The must-see among Thrissur tourist places are as below
01. Guruvayur Sri Krishna Temple


Being one of the oldest temples in India, this temple is visited by many from different parts of India and is one of the best in Thrissur tourist places. Guruvayur Sri Krishna Temple is situated 29 km north of Thrissur town is one of the best tourist places in Kerala. The idol of Lord Krishna of Guruvayur Sri Krishna Temple is about 5000 years old. The temple was built in 17th century with Kerala traditional architecture. All the walls of the Guruvayur Sri Krishna Temple are decorated with painting and sculptures.
02. Vadakkunnathan Temple


Vadakkunnathan Temple is situated in the middle of Tekkinkadu ground in the heart of Thrissur town. The temple is contained within stone wall which encloses about 9 acres of land. Lord Vadakkumnathan (Lord Shiva) is the principal deity of Vadakkumnathan Temple. The temple has three shrines dedicated to Lord Vadakkumnathan, Lord Sankaranarayana and Lord Rama. Vadakkumnathan temple (Kshetram) is the venue for Thrissur Pooram festival which is celebrated every year in April-May season.
03. Basilica of Our Lady of Dolours


Puthenpally or Basilica of Our Lady of Dolores is situated in Thrissur town. It is one of the tallest and biggest churches in Asia. Being one of the best in Thrissur tourist places several foreign tourists come to pray at this church. Puthenpally is built in an area of 2300 m. Puthenpally church was built in is built in 1940 in Indo-Gothic style of architecture.
04. Bible Tower


Bible Tower is actually a part of Puthenpally. It is the bell tower of Puthenpally behind the church at a height of about 80 m. Bible tower is the tallest church tower in Asia and is decorated with wood and brass carvings. The walls are decorated with stained glasses, oil paintings, wood and brass carvings, oil paintings, terracotta paintings etc.
05. Athirapally Waterfalls


Athirapally Falls is a popular and one of the best Thrissur tourist places. The tourist spot is located 60 km from Thrissur town. The Athirapally falls are at the entrance of Sholayar ranges of Western Ghats. The Athirapally waters fall from a height of about 24 m to the river bed in Chalakudy.
06. Vazhachal Falls


Vazhachal Falls is just 5 km from Athirapally Falls. Here you can see the Vazhachal falls with a scenic backdrop of dense forests of Sholayar ranges. If you decide to come to Athirapally Water Falls then you shouldn't miss this Thrissur tourist place.
07. Sakthan Thampuran Palace


Sakthan Thampuran Palace is another attraction in the list of Thrissur tourist places. This was the palace of Sakthan Thampuran, an erstwhile ruler of Cochin Kingdom. The famous palace is also known as Vadakkekara Palace. The palace is built in Kerala-Dutch architectural style and the floors are laid with Italian marble.
08. State Museum Complex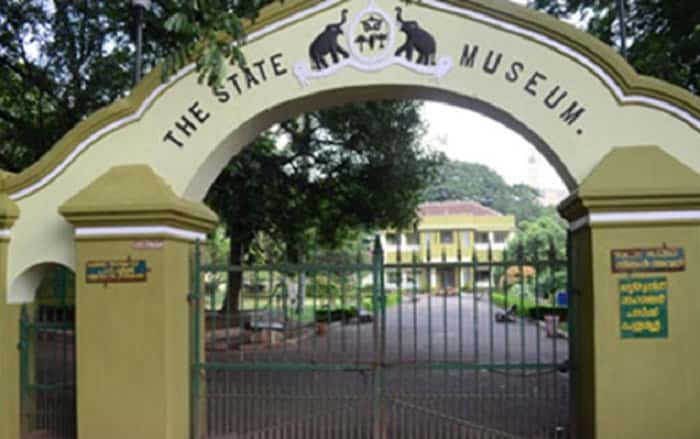 State Museum Complex was established in 1885 and covers an area of 5.5 acres of land in Thrissur town by the Town Hall road. State Museum Complex comprises Botanical Garden, Zoological Garden, Archaeological and Art Museum. The Zoological Garden has over 300 animals belonging to 50 different species while the Archaeological and Art Museum comprises traditional artifacts and handicrafts, ancient manuscripts on palm leaves etc. State Museum Complex is one of the fully packed Thrissur tourist places.
09. Parambikulam Wildlife Sanctuary


Parambikulam Wildlife Sanctuary covers an area of 285 km of area in the Sangam Hill ranges of Western Ghats. The sanctuary was established in 1973 and a lie in varied altitudes of 300 m to 1430 m. Parambikulam Wildlife Sanctuary is bounded by Nemmara Forest Division in its North and Vazhachal Forest Division in its South. So if you come to Athirapally or Vazhachal waterfalls you must not miss this sanctuary. The sanctuary continues from Peechi to Eravikulam. Eravikulam is actually another national park in Munnar and is one of the best tourist places in Munnar.
10. Peechi Dam


Peechi dam is located 20 km from Thrissur town. The dam is built across river Manali for the irrigation purposes of Thrissur. For those who need a complete tourist experience boating facilities are also available at this place.