The mystic land of Ladakh has lots to offer to a tourist. Explore its craggy topography kissing the sky, the green sprawling vales, the pellucid lakes of crystal-clear blue water and you'll indeed feel you have arrived at a land detached from the chaos of the surrounding world. Read on to learn about Ladakh's top 10 tourist destinations.
Ladakh is a mystical and mysterious land and is meant for the discerning tourist who is jaded of the overcrowded usual tourist routes and wants to sample the exquisite untouched beauty of the land of Monasteries; Ladakh. To explore Ladakh well you need a minimum of 15 days as there are innumerable places of interest which are pretty inaccessible and require a lot of time to travel. However if you are short on time but still would like to see the principal attractions of Ladakh then the Top 10 Tourist Destinations in Ladakh are shortlisted for you.
Tourist Attractions in Leh-Ladakh
Leh: The Capital town of Ladakh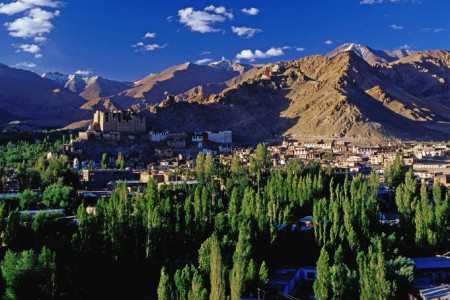 You will anyway be visiting the town of Leh as the only airport in Ladakh lies here. This is an ancient mystical town full of opportunities for sightseeing and shopping. Visit the Namgyal Peak which was the victory peak for the Namgyal Monarchs who ruled over Leh for centuries. The Stok Palace and the Leh Palace are the places in which the Ladakh Monarchs used to stay. The Tsemo Gompa with its intricate paintings and huge Thangka is also an unmissable attraction of the town and so is the smaller Avalokiteshvara Monastery just below it.
The Leh Bazaar is ideal for a shopping expedition (you won't find much of shopping opportunities in rest of Ladakh). The top buys here are silver artifacts, chunky Tibetan jewelry, Pashmina shawls, Prayer Wheels and Thangkas. Book a vehicle (preferably a Jeep) if you want to see the rest of the Ladakh well because Leh is where all tourists make conveyance arrangements too.
Pangong Tso Lake in Ladakh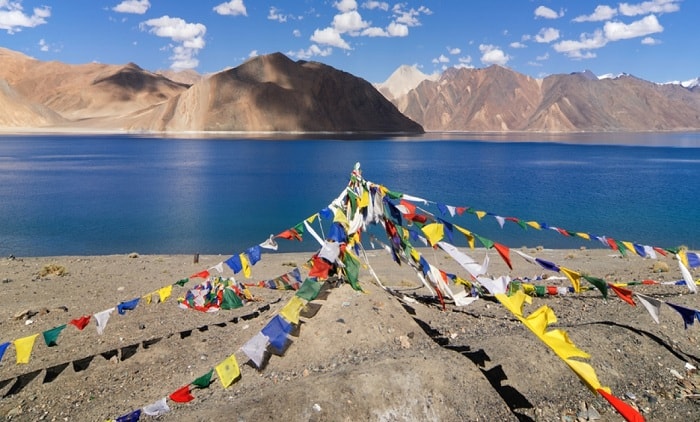 The Pangong Tso Lake is unlike anything that you have seen in the rest of your life. For starters it's an exhilarating but difficult journey as you have to cross the Chang La which is supposed to be the third highest motor able road in the world and you will have to climb to an altitude of 17,500 feet to reach there. The view is astounding and you will scarcely be able to put the camera away. Pangong is actually an army outpost besides which lies the huge Pangong Tso lake; the most beautiful Lake in Ladakh. If you are in Ladakh during winters then it's possible to have a "walking on water experience as the Lake solidifies to ice. During summers you will be able to see robins, pelicans and red breasted cuckoos flying over the lake. There are an amazing range of flowers which grow right beside the lake making it an amazing experience.
Zanskar Valley in Ladakh


Zanskar Valley is about 5 hours from Leh and its better to ride up there by car as there are lots of places of interest here. This is called the Virgin Valley because of the unspool innocence of the landscape. If you are interested in adventure sports then you will enjoy the white water rafting trip from Zanskar to Phey village.
The Bardan Gompa and the Karsha Monasteries are the two famous monasteries of Zanskar Valley. 100 different Buddha incarnations are depicted in the Karsha Monastery which is situated right beside the beautiful Doda River. Padum village with its crooked little houses with rose and apricot gardens and the lovely Khar palace is also a must see attraction here.
Nubra Valley: Paradise in Ladakh
Caravans of merchants used to carry spices, silk and condiments along the famous Silk Route of which Nubra Valley was a major stop. For an authentic experience ditch your car for half an hour and hitch a ride atop the 2 humped Bactrian Camels that are found on hire there.
If you feel uncomfortable maneuvering the unnaturally high altitude and extreme temperature of Ladakh then Nubra Valley will provide you with a breath of fresh air. For starters the altitude is lower here and you will have a break from the rarified atmosphere in the rest of Ladakh. This is the most beautiful area in Ladakh and takes 5 hours by Jeep from Leh.
The Diskit Monastery is the biggest Monastery in this area with gleaming Chortens, Mani walls, Thangkas and carved Tibetan inscriptions. Diskit Village has lots of shops (in case shopping fever has hit you) and plenty of good restaurants serving world cuisine.
Brokpa Villages of Ladakh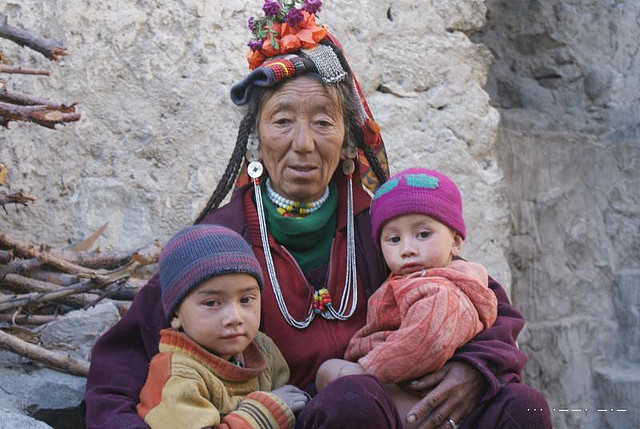 If anthropology and culture fascinates you then the Dha and Baigdandu Villages which are a part of the cluster of Brokpa Villages will fascinate you. Centuries ago when Alexander the Great along with his magnificent army had conquered the rest of the world before being demoralized and turning back at the frontiers of Ladakh; some soldiers of his army stayed back. The soldiers were enchanted with the loveliness of the land and being too tired to travel all the way back, they married local beauties and opened inns, pubs, bookshops and hotels here. There is complete prevalence of European culture here with dating, open relationships and independent existence being the norm. Sample the local pancakes and honey, look at the apricot and cherry orchards and see the villagers dressed up in the red feather and bead costumes dance; it's an experience of a lifetime.
Incidentally, these villages are nearer to Srinagar Airport (5 hours) than the Leh Airport (8.5 hours).
Sumur Nubra Sand Dune Park in Ladakh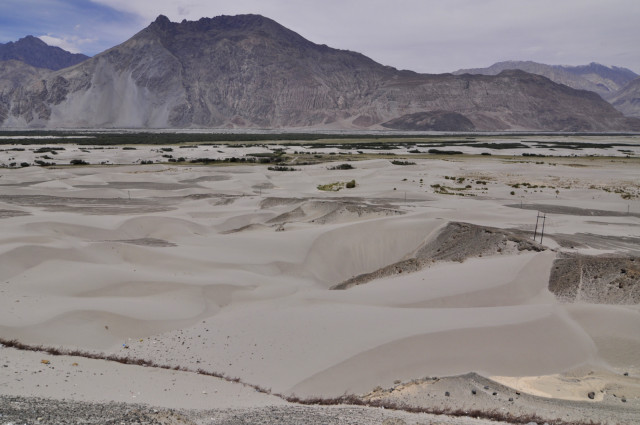 Sumoor Nubra is India's only cold desert park. It's about -6 hours from Leh Airport and is reachable by Jeep or Volvo Bus both of which you can avail from Leh. Once you reach the Sand Dune leisure Park, make sure you attempt the Bactrian two humped camel ride across the park premises. This camel is peculiar only to this region and you will feel like a nomad experiencing the charms of the desert. Mountain climbing is done on the rocky mountain and there are opportunities of biking too. Overnight camp stay in full A.C tent with excellent food, wine, music and cultural programs is arranged by the Sumoor Nubra management.
Uleytokpo: Monastery Village in Ladakh
Uleytokpo besides being one of the prettiest villages in Ladakh is home to 3 of Ladakh's famous Monasteries; Alchi, Lamayuru and Rizdong. The luxury Uley Resort is situated over here which offers the last word in exotic comfort amidst picturesque surroundings.
Alchi Monastery has 4 main areas of interest; Rinchen Zangpo monument, Chortens, Dukhang (prayer hall) and Manjushri Temple. Don't forget to visit the Mangyu, Shakyamuni and Vairocana temple complex nearby. Lamayuru Monastery which is one off oldest monasteries in Ladakh shouldn't be missed.
Confluence of Zanskar and Indus Rivers
The confluence of the Zanskar and Indus River is one of the most beautiful places in Ladakh. The waters of the Indus and Zanskar are distinguishable by the different strains of blue coloring. Many adventure tours and travel organizers set up camps at this point. If you visit this place between July to September you can participate in the river rafting activities which are a thrilling experience in themselves. Fishing, Bird watching and photography are the other major activities here. Ladakh is home to more than 50 varieties of birds many of which are now endangered like Golden Eagle.
Magnetic Hills in Ladakh
People from all across the world come to see the famous Magnetic Hill in Ladakh which defies gravity. Just leave the park in neutral gear and watch it climb uphill at a speed of 10 km per hour on its own. This place is the only area in the world where vehicles climb up a hill even when engine is turned off. This is because the Hill has special magnetic properties. The Magnetic Hill is 30 km away from the capital town of Leh and is one of the most curious places in Ladakh.
Hemis National Park in Ladakh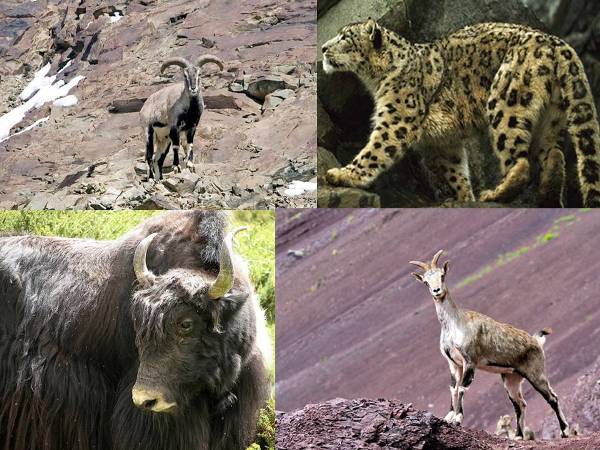 The strangest thing about Ladakh is that there are no parks except the Hemis National Park which is incidentally the largest ecological reserve in India. Set in a sprawling 1290 square miles this Park leaves a beautiful impression on the mind.
Rare forms of wildlife like Snow Leopard, Tibetan Ibex, Argali and Ladakhi Urial are found here. The birds to watch out for are Lammergeier vulture, Robin Accentor, Fork Swift; Crimson billed Cock, Golden Eagle, and Tibetan Snowfinch and Himalayan Griffon vulture. There are beautiful Tibetan handicraft selling shops inside Hems national Park. Another must see attraction here is the large and superbly beautiful Hemis Monastery with its ancient Thangkas and tall Buddha statues.