The beautiful island country of Sri Lanka is popular for its unmatched beauty and soul stirring mountain peaks. It has rich background of historical significance for travelers from all over the world. From the happening city life to the serene beaches and the well preserved unique culture is what gives a visit to Sri Lanka a personality of its own. Every sport here is picture perfect and accompanied with an incredibly serene ambience.
If you are thinking about maybe taking a trip to this wonderful island nation then here the 20 places that you should visit in Sri Lanka, which will make you, pack your bags right away:
01. Arugam Bay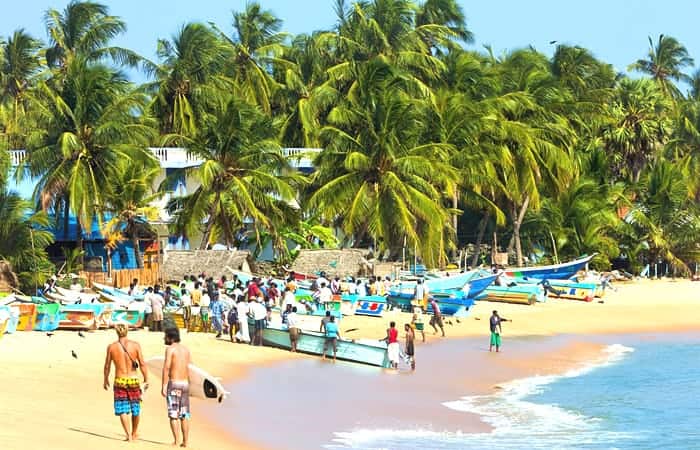 Apart from the boundless natural beauty, Sri Lankan beaches possess a charm of their own. Arugam bay is one such beach where you must witness a sunset that will remain in your memory forever. Surrounded by the lush green tree cover and a relaxing environment this place will be the ideal spot to spend some quality time with your family or a loved one. Take a dip in its crystal clear blue water and have a grand time.
Timing: Open throughout the day
Entry Fee: NA
How to Reach: Colombo – Arugam Bay (bus ride / hired taxi)
Things to Do: Water sports activities like parasailing, Jet Skiing, boat rides etc.; try local delicacies at nearby restaurants; walk on the beach etc.
02. Temple of the Tooth Relic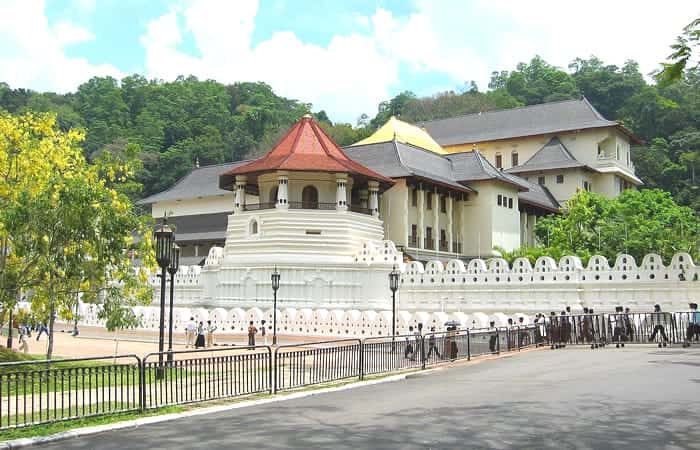 Sri Lanka is the land of UNESCO world heritage sites where one of the most significant one is the place where Gautam Buddha's tooth are kept. This makes it a very prominent Buddhist pilgrimage site and is visited by devotees from all over the world throughout the year. Situated in the thriving city of Kandy this temple is probably one of the most unique places of worship in the world.
Timing: 5:30 am – 8:00 pm
Entry Fee: 1,000/-
How to Reach: Colombo – Wattala – Kegalle – Rambukkana – Temple of tooth relic
Things to Do: Explore the beauty of the temple; offer prayer and have Darshan at the shrine; observe the serene beauty etc.
03. Jaffna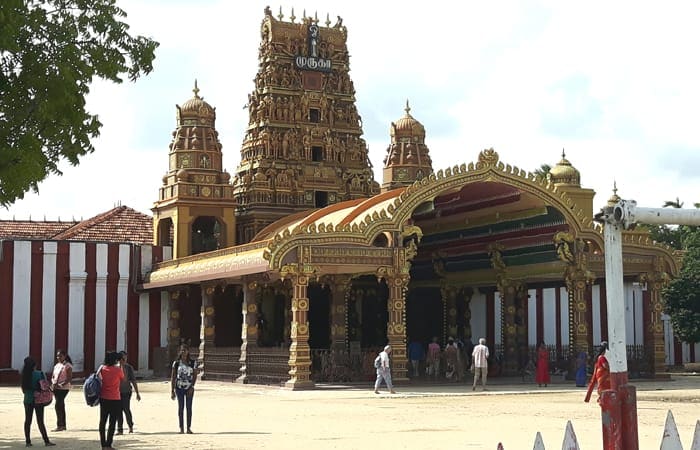 Home to some of the most opulent and elegant temples in Sri Lanka, this place have truly stood up to its name of city of temples. The temple of Nallur Kovil is by far the most visited temple here and remains thronged with tourists and devotes from far and wide.  Another interesting place of tourist attraction here is the famous Jaffna fort which offers some of the most magnificent views of the glorious natural beauty here.
Timing: NA
Entry Fee: Free entry
How to Reach: Colombo – Negombo – Anuradhapura – Vavuniya – Mankulam – Parantan – Jaffna
Things to Do: Explore the temples here; witness the beauty of nature at the Fort; experience tranquil serenity etc.
04. Ella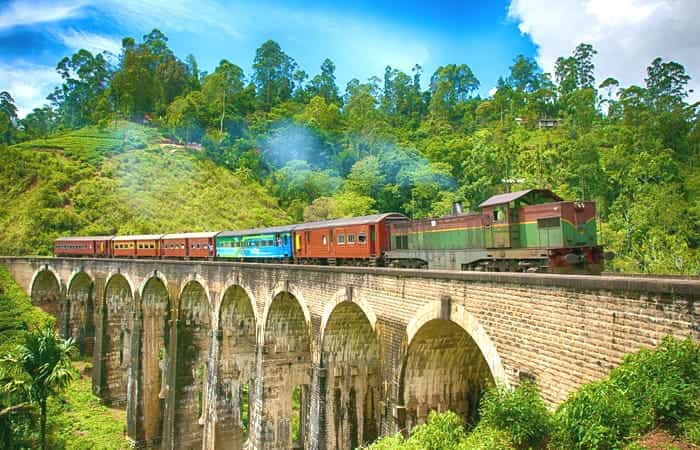 Witness the immense amount of natural beauty on the lush green hills of Ella. Taking road trip here is one of the best decisions of your life that you will make. Situated amidst the untouched countryside and lush green tea plantations this place is a true mark of god's blessings on this land. Every sight here stunning and breathtaking from every perspective and is undoubtedly one of the mesmerizing places to visit in Sri Lanka.
Timing: NA
Entry Fee: NA
How to Reach: Colombo – Ratanpura – Balangoda – Ella
Things to Do: Nine Arches Bridge; Ravana Waterfalls, Ravana Caves, hiking on Ella Rock etc.
05. Nuwara Eliya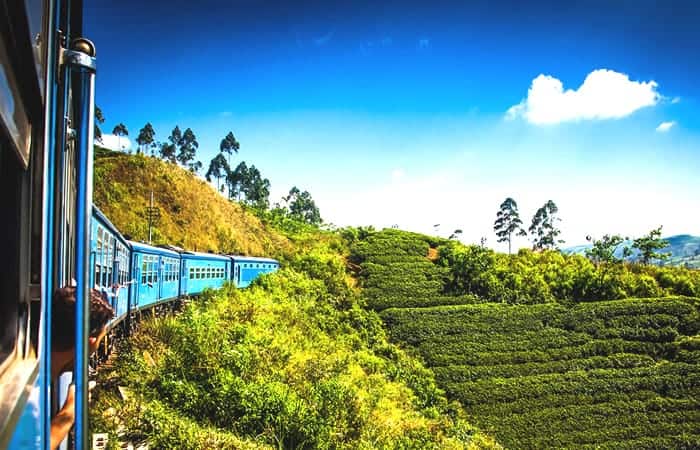 Lovingly referred to as 'city of lights' this place which is perched amongst the most stunning beauty. The highland terrain here reminds the travelers of a British highlands due to the presence of old British bungalows and other colonial structures. The place is replete with well-trimmed and maintained tea gardens that boasts of being one of the most important centre for the tea Industry in Sri Lanka. Now it is one of the most peaceful Places that you can go in Sri Lanka.
Timings: NA
Entry Fee: NA
How to Reach: Colombo – Wattala – Mirigama – Kegalle – Ramboda – Nuwara Eliya
Things to Do: Visit places like – Lake Gregory; lover's leap waterfall; Galway's land national park etc.
06. Polonnaruwa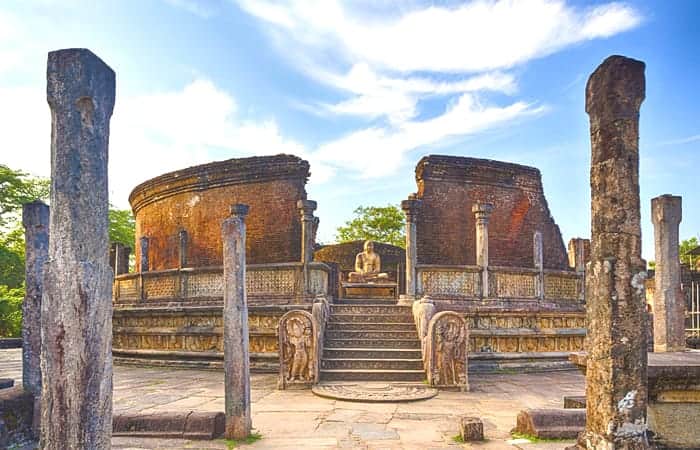 Visiting the ancient and well preserved ruins of Polonnaruwa will allow you to get a glimpse of the Sri Lankan past. The entire region is replete with tombs, temples, Stupas etc. and a visit to this heritage place will be a unique place of visit. If you want to get a real taste of the Sri Lankan culture and traditions then you must go on a sightseeing trip here. The old buildings and flaking structures will feel like visiting the past and is one of the most visited among the travelers.
Timing: NA
Entry Fee: NA
How to Reach: Colombo – Kurunegala – Dambulla – Polonnaruwa
Things to Do: Explore the ruins of Sigiriya; Minneriya National Park; Gal Vihara Rock Temple etc.
07. Adam's Peak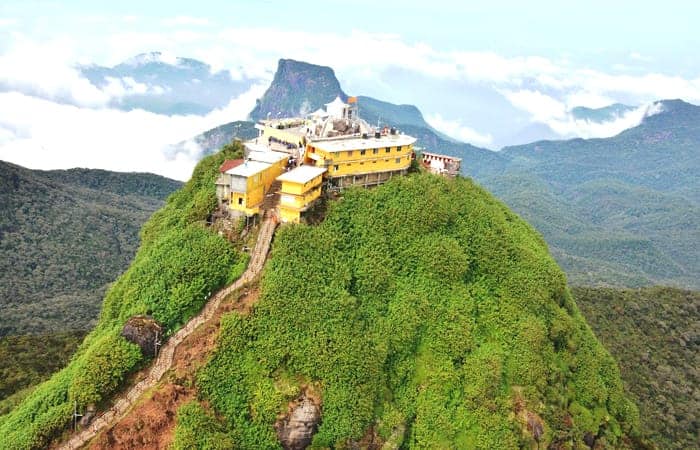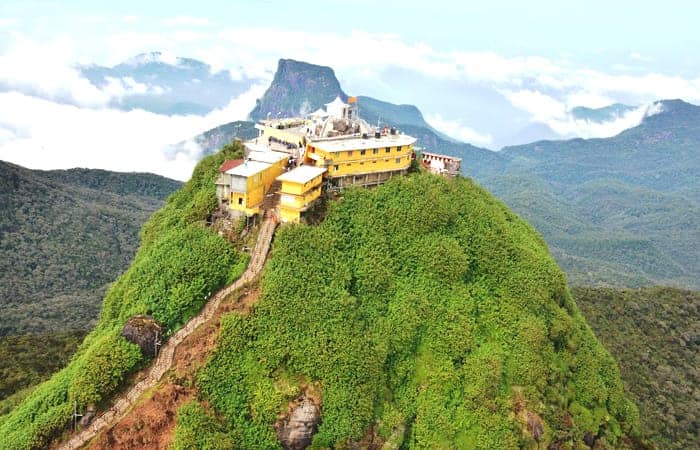 This dramatic looking conical mountain which is situated in the central region of the island and well known for its attraction of sacred footprint and is one of the most important pilgrimages Centre for Buddhist pilgrimage. It is also important place of visit for Hindus, Muslims and Christians. The mountain peak is surrounded by surreal natural greenery with a tranquil river flowing through it. The 5,500 steps available here for the visitors are well built and doused in incredible and picturesque beauty.
Timing: Open 24 hours
Entry Fee: Free entry
How to Reach: Colombo – Wattala – Gampaha – Kitulgala – Adam's Peak
Things to Do: Go on pilgrimage here; white water rafting in Kitulgala; visit to nearby spice garden etc.
08. Sigiriya Rock Fort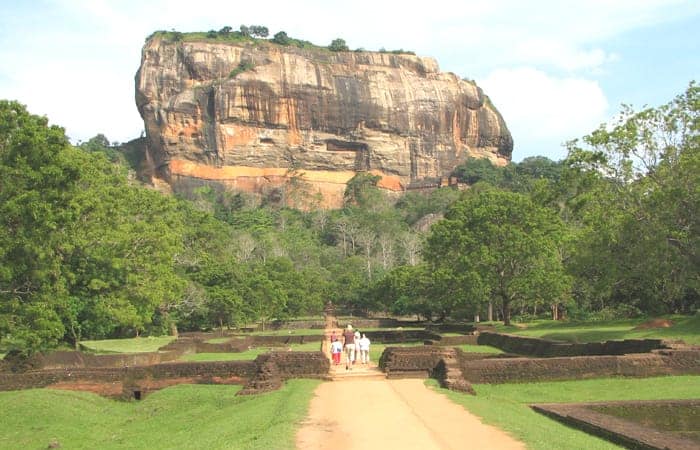 This is perhaps a landmark of Sri Lanka and offers some of the most dramatic views of the surroundings and with an ever present ancient vibe. The rock structure is extremely unique since on the top of it it is adorned with gardens and pools that only adds on to the beauty along with offering some of the most stunning views from the top. A visit to this rock fortress is a must.
Timing: 7 am – 4 pm
Entry Fee: 1,763/- ; 30 dollars
How to Reach: Negombo – Kurunegala – Dambulla – Sigiriya
Things to Do: scenic hiking in Pidurangala Rock; visit Sigiriya archeological museum and cobra hood cave etc.
09. Mirissa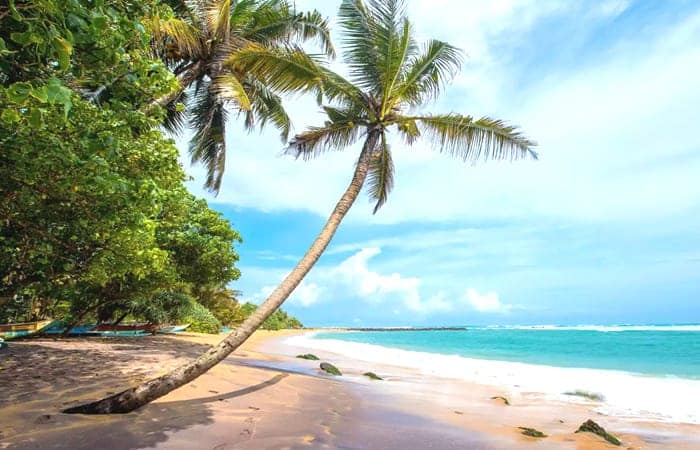 If you are looking for a peaceful getaway in Sri Lanka away from the bustle of the city and the chaotic crowd, then Mirissa should be on top of your list of places to visit in Sri Lanka. This is a breathtakingly tranquil village which is home to come of the most relaxing beaches here. You can spend your time soaking the sun peacefully and have a closer look at the aquatic life here.
Timing: NA
Entry Fee: NA
How to Reach: Colombo – Malabe – Beruwala – Galle – Mirissa
Things to Do: Visit Parrot Rock Bridge; whale watching Mirissa Beach; snorkeling in Polhena Beach etc.
10. Yala National Park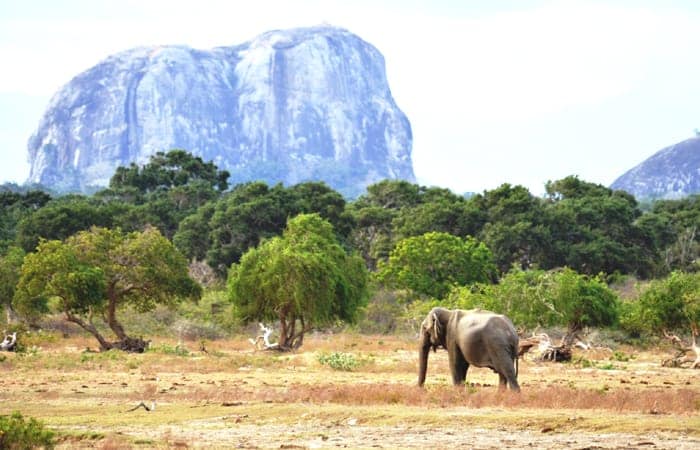 Home to some of the most interesting collection of leopards this is a place where you can witness these jungle cats in their natural surroundings. This national park is well known for its high density of leopards and contains grassy plains, lagoons, forests, stretches of coastline and so much more, makes this place a must visit. Ride across the Sri Lankan wilderness on a jeep and experience the well preserved natural beauty here.
Timing: 6 am to 6 pm
Entry Fee: 6,000/- (including jeep safari)
How to Reach: Colombo – Beruwala – Galle – Tangalle – Hambantota – Yala National Park
Things to Do: Bird watching; animal spotting; jeep safari etc.
11. Beira Lake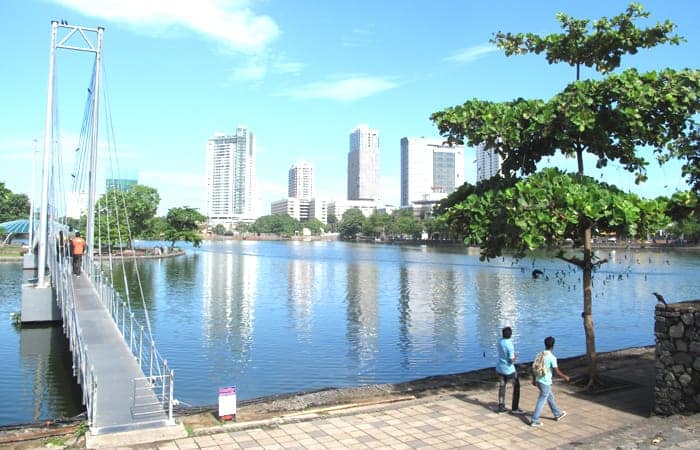 There is no dearth of places to visit in Sri Lanka and Beira lake is one such amazing tourist attraction in Sri Lanka. You can spend some peaceful and quality time here because the lake i still and surrounded by some incredible serenity. You can even go on a boat ride on the lake water and feel the stress fade away instantly. Visiting this lake would be a quick break from the chaotic bustle of the constant sightseeing.
Timing: Open 24 hours
Entry Fees: Free entry
How to Reach: Situated inside Colombo
Things to Do: Visit Seema Malakaya Temple; Gangaramaya Buddhist Temple; explore the city Centre of Colombo etc.
12. Trincomalee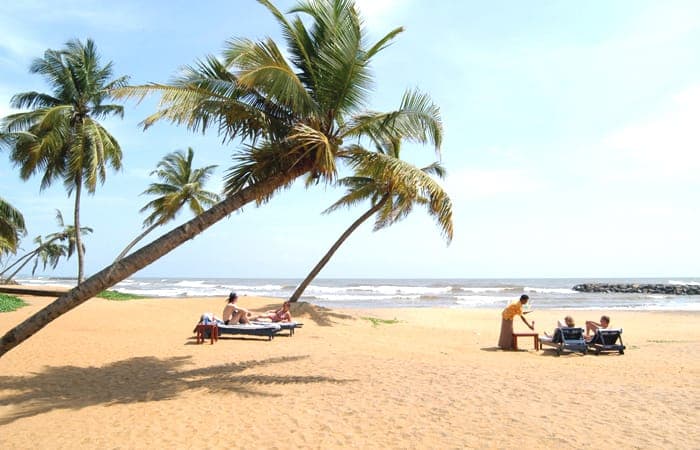 If you are one of those people wish to explore the adventurous side of Sri Lanka then a visit to this paradise is a must. Here you can indulge in water sports activities, go beach hopping throughout the coastline or want to experience the aquatic collection then a visit to this place is a must. Apart from this you can also visit a few temples that are situated around this area and can be visited.
Timing: NA
Entry Fee: NA
How to Reach: Colombo – Kurunegala – Dambulla – Sigiriya – Kantale – Trincomalee
Things to Do: Visit Koneswaram Temple; Fort Frederick; Pathirakali Amman Temple, scuba diving etc.
13. Kandalama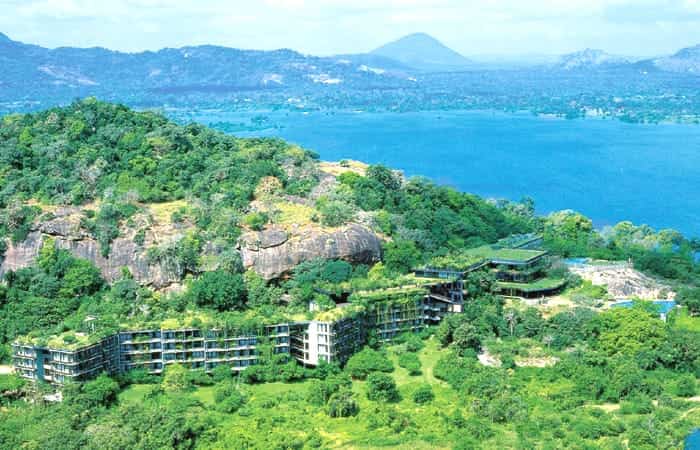 The quaint and serene village of Kandalama is another one of the most tranquil destinations in sri lanka that should definitely be visited at least once during your visit to Sri Lanka. The beauty here is being utilized to draw in huge throngs of tourists who are willing to have a peaceful time away from the city. The overpowering and lush greenery here is one of the most stunning sights you will ever see. It also has a number of luxury resorts here that lets you have a luxurious time here.
Timing: NA
Entry Fee: NA
How to Reach: Colombo – Negombo – Kurunegala – Kandalama (close to Sigiriya)
Things to Do: Visit the famous spice garden here; explore the mountain of Kaludiya Pokuna; Kandalama reservoir etc.
14. Tissamaharama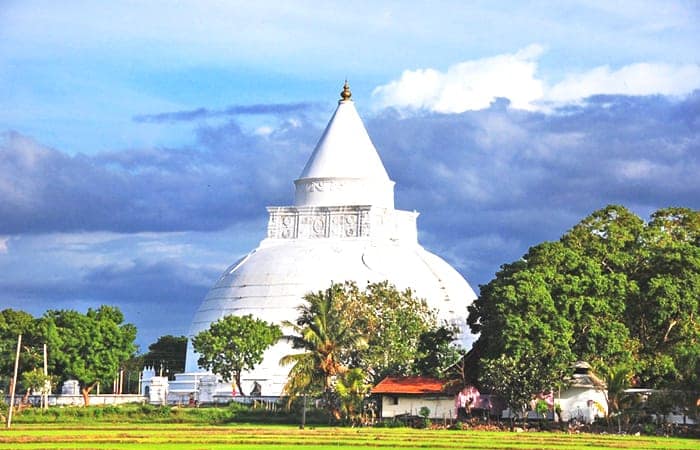 Better known for being the paradise for bird watchers and photography enthusiasts this place will be One of the most memorable experiences here. One of the main attractions here is the artificial lake of Tissa Wewa Lake, which is situated almost at the Centre of the city and is a huge crowd puller. It is also dotted with a number of Stupas and manages to bring together Buddhists from various parts of the world together here.
Timing: NA
Entry Fee: NA
How to Reach: Colombo – Bentota – Galle – Hambantota – Tissamaharama (close to Yala)
Things to Do: Visit to Tissa Wewa Lake; safari experience; Raja Maha Vihara Temple; Yatala Vehera Buddhist temple etc.
15. Bentota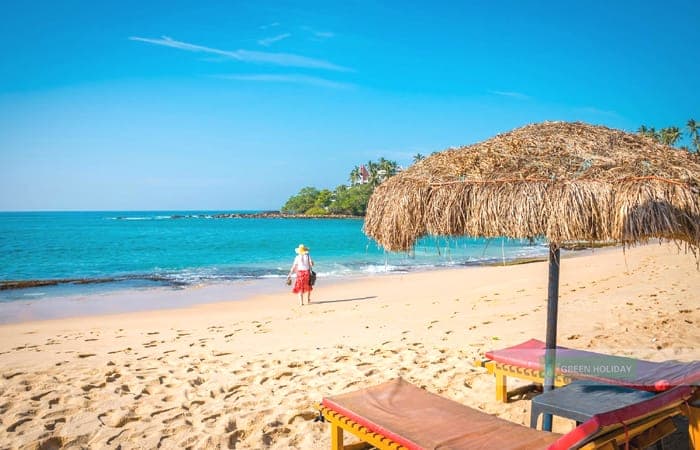 This is a luxury resort beach town in Sri Lanka that was developed with the primary aim of being a tourist hub here. The beach here has garnered the attention from international tourists as well and is lovingly referred to as paradise islands for its sheer beauty and untouched magnificence. A centuries old temple here is also a major attraction along with the coral rich sea bodies as well as some of the most fascinating architectural structures.
Timing: NA
Entry Fee: NA
How to Reach: Colombo – Dehiwala Mount Lavinia – Bentota
Things to Do: Visit Bentota Lake; Brief Garden; Ventura Beach; go on a river safari; witness the stilt fishermen etc.
16. Ulpotha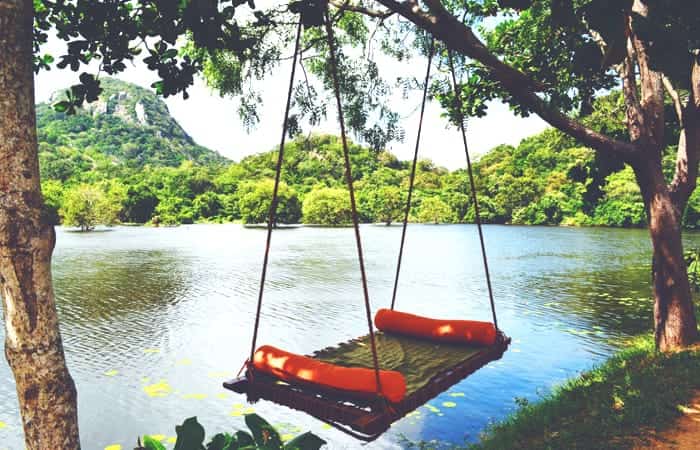 This is another interesting place in Sri Lanka which should definitely be visited during your visit to this fun island nation. This place is particularly popular for its yoga and Ayurved studies. You can indulge in peaceful yoga activities amidst the breathtaking natural beauty here. Being here feels like you have stepped into a paradise on earth and the feeling is incredibly fulfilling. Even if you are the least interested in these activities you should still go and explore this incredible place.
Timing: NA
Entry Fee: NA
How to Reach: Colombo – Wattala – Kegalle – Ulpotha
Things to Do: Visit Yapahuwa Rock Fortress; explore different Yoga Centres; learn about Ayurved etc.
17. Unawatuna Beach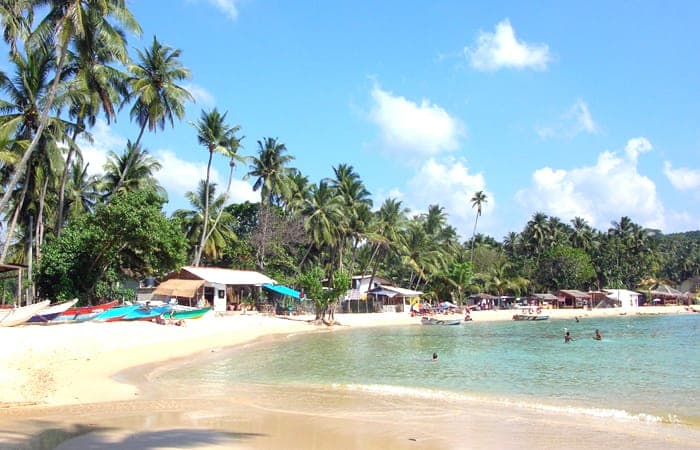 As it has been mentioned before Sri Lanka is a paradise for beach lovers and Unawatuna Beach is a nothing short of spectacular. Although there is no dearth of beaches to be visited at this wonderful country this particular beach should not be missed out on any cost. It is the hub for all interesting and fun tourist activities and creates a happening environment for the visitors. It is one of the most fun beaches here which in the morning offers a serene time.
Timing: open 24 hours
Entry Fee: free entry
How to Reach: Colombo – Galle – Unawatuna Beach
Things to Do: Explore the long coastline; Beach Jungle; visit the peace pagoda here; spend some time relaxing by the beach etc.
18. Galle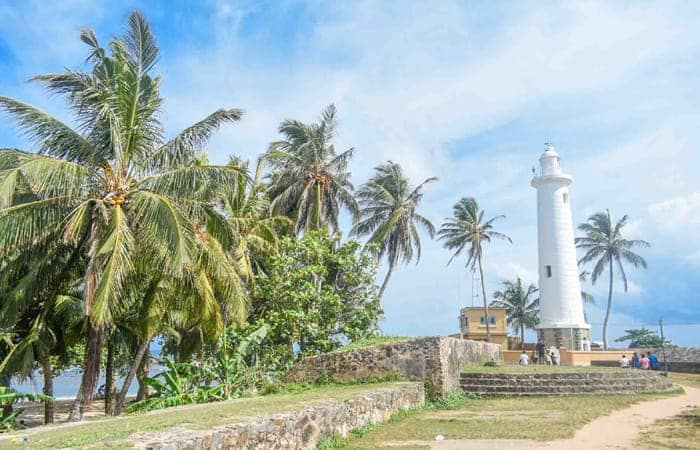 Situated away in the southern end of the Sri Lankan landmass the historic city of Galle is not only a mesmerizing experience but is also known for being a part of the UNESCO world heritage site. Home to some of the oldest buildings, ancient mosques and museums this place is drenched in a deep sense of historical relevance. Most of the travelers are attracted by the Old Dutch and colonial appeal.
Timing: NA
Entry Fee: NA
How to Reach: Colombo – Galle (via bus or a taxi)
Things to Do: Visit the historic Galle Fort site; lighthouse; market street etc.
19. Kandy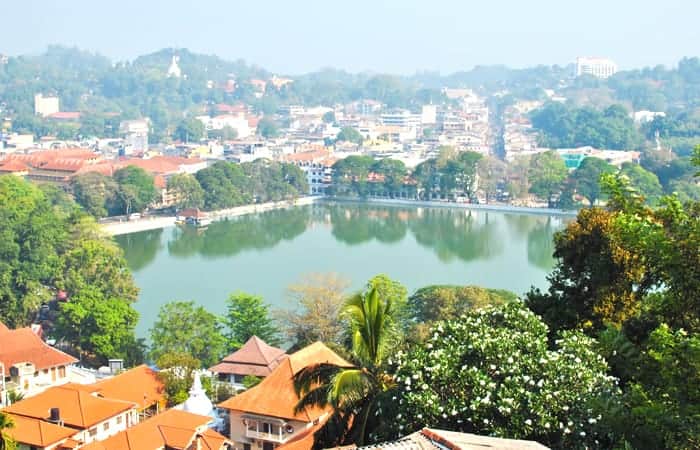 Experience the tempting taste of the tropics by visiting this magnificent place that is doused in rich cultural history and surrounded by incredible lush greenery. The rain washed skies and the gleaming thick greenery that covers almost every inch of this place is sure every travel lover and peace seeker's paradise. Visited throughout the year there are several notable places here which makes it one of the top tourist destinations in Sri Lanka. Experience the true vibe of Sri Lanka here.
Timing: NA
Entry Fee: NA
How to Reach: Colombo – Wattala – Kegalle – Peradeniya – Kandy
Things to Do: Take a stroll at Kandy Lake; visit temple of the tooth relic; explore royal botanical gardens; Visit Dambulla Cave Temples etc.
20. Ohiya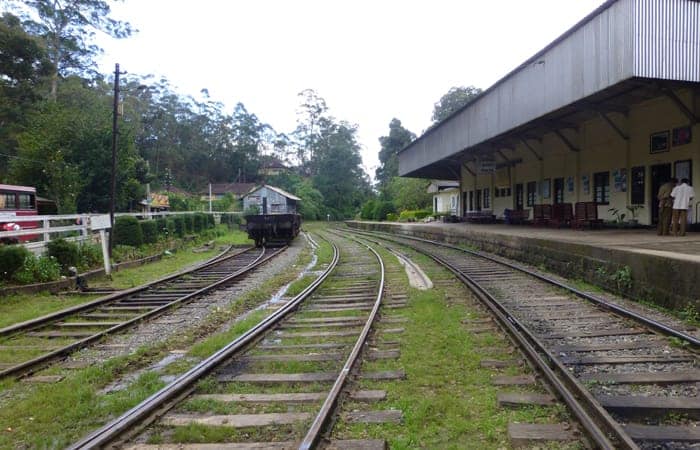 Located in close proximity to the Horton plains national park, this scenic and pristine village is a must visit for every outdoor adventure lover. The place is rich in greenery, filled with avenues for fun activities and offers its visitors a pleasant time here during their stay. It is replete with the blessing of nature and wide expanses of green Rolling Meadows this village is explored also by campers, hikers and trekkers or even some people looking to just get away from the city bustle.
Timing: NA
Entry Fee: NA
How to Reach: Colombo – Ratanpura – Balangoda – Ohiya
Things to Do: Visit Horton Plains National Park, Bambarakanda Falls, Kirigalpotta Forest Peak, Surathali Waterfall etc.